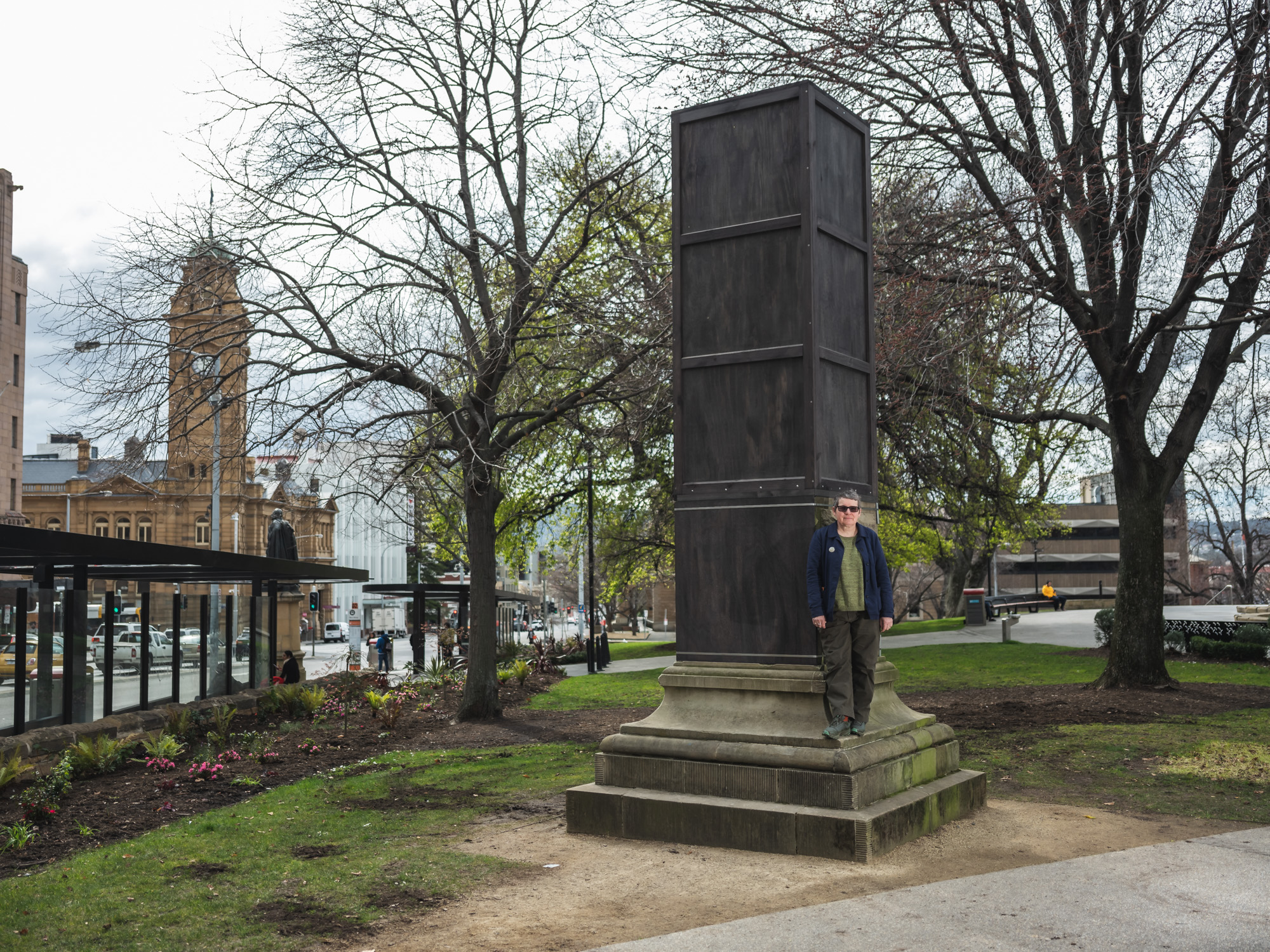 The Crowther Reinterpreted Project
City of Hobart
The Crowther Reinterpreted Project is a series of four art installations, commissioned by the City of Hobart, designed to tell the layered story of the William Crowther statue in Hobart's Franklin Square.
The installations aim to acknowledge, question and provoke discussion about the story of Crowther and his treatment of the body of Aboriginal leader William Lanne, after his death in 1869. Lanne, later known as King Billy, and his family were believed to be the last Aboriginal people at large on the Tasmanian mainland before they were captured and eventually taken to Wybalenna Aboriginal Establishment at Flinders Island. After his death in 1869, Lanne's remains were illegally dismembered by William Crowther.
The Crowther Reinterpreted Project reflects a global statue revolution and conversation with bronze and marble men of history, raising big questions about the truth telling that the statues provoke. The project, part of the City of Hobart's Aboriginal Commitment and Action Plan, is a commitment to visibility and truth telling across the city. In this way, City of Hobart hopes to take the lead nationally in this Australian dialogue.
The first installation of the series, Truth Telling by celebrated Tasmanian and Aboriginal artist Allan Mansell, temporarily transformed the statue into a memorial for William Lanne. The artwork, aimed to rectify history rather than rewriting it, saw the statue with head and hands covered in red and holding both the Indigenous flag and a saw. The artist also covered the plaque on the statue with an explanation of Crowther's wrong doings against Lanne.
The second installation, The Lanney Pillar by Tasmanian filmmaker Roger Scholes and Professor Greg Lehman, is a mixed media piece comprising of both a statue in Franklin Square and a short film, The Whalers Tale. The installation tells the incredible story of Lanne's life on the Tasmanian lands before it was overshadowed by his death.
The third interpretation by Julie Gough, titled BREATHING SPACE, 2021 involved the addition of a stained timber crate, that will entirely cover the bronze figure of William Crowther, and a stained timber panel to cover the engraved stone plinth text for the statue. A QR code located near the work will direct passers-by to a downloadable poster of new wording for the plinth
The fourth exhibition by writer, photographer and emerging filmmaker, palawa woman, Jillian Mundy titled Something Missing, 2021 involves the installation of a viewing enclosure near the statue where a film comprising a series of vox pops and interviews with people who use the area, can be viewed. This work connects with one of the core aims of the Crowther Reinterpreted Project, by offering an opportunity for discussion and reflection.