WinterWild 2017: a new after-dark festival in the Otways, July – August 2017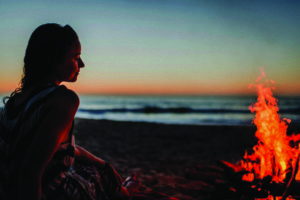 Stars, hide your fires; Let not light see my black and deep desires – William Shakespeare
Embrace the elements of the southern Otways when a new after-dark festival sparks up next month: the first WinterWild will revel in the untamed side of Apollo Bay. Don't look away.
Inspired by the elements of earth, water, air and fire – and informed by the history of Apollo Bay – the 18+ festival takes place over four weekends to highlight various art forms: music, street theatre, film and storytelling.
Water (July 1-2):
Mick Turner (Dirty Three), Sand Pebbles, screening of cult 90s surf film Litmus with soundtrack performance by director Andrew Kidman
Earth (July 15-16):
Butoh performer Yumi Umiumare, Tek Tek Ensemble, Tosca by Cut Opera
Air (July 29-30):
Programmed by the Apollo Bay Writer's Festival, including Michael Leunig, Clementine Ford, Arnold Zable and Emilie Zoey Baker
Fire (Aug 12-13):
Massed choir of 100 singers, ritual burning of festival sculpture, live music
When the sun-seeking, shell-collecting crowds have deserted the place where the forest meets the sea, Apollo Bay is "less Summer Bay, more Deadwood", said festival director Roderick Poole.
"If you're going to have a festival in Apollo Bay in winter there is no point hiding from the elements. We like it dark and wild, a little bit dirty," he said. "We're not afraid to face the wind, the rain, the big waves and the mud."
As one of Victoria's most visited tourist regions, Colac Otway Shire is taking the aftermath of destruction and transforming it into creation. After the 2015 Christmas Day fires burnt a light on the horizon, the Great Ocean Road was closed and the economies of its coastal communities ground to a halt. Out of the support offered by Regional Development Victoria to boost the economy, the shire will rise from the ashes – building a winter festival that showcases the best Apollo Bay has to offer.
Each of the four Saturday nights of the festival will kick off around a large bonfire on the beach contained within room-sized, artist-built braziers. The night's main festivities then move into the Mechanics Hall, but the town will buzz around it with roving performers, outdoor film projections, bands in pubs and jams around the bonfire.
Local cafes and restaurants – including Steve Earl's La Bimba, arguably one of the best seafood restaurants in the country – will serve up special festival menus using local produce and Sunday morning will offer a recovery session to recuperate from the night's revelries.
"This festival won't be for the faint-hearted," said Poole. "It is very much aimed at adventurous spirits ready to take on a challenge; to embrace the harsh environment and celebrate the beauty of the elements at their extremes."
Ticket sales open May 17 at winterwild.com.au
WinterWild 2017
July 1-2, July 15-16, July 29-30, August 12-13
Festival and ticketing info: info@winterwild.com.au ph: 0447 966 914
Media enquiries: Zilla & Brook Publicity (03) 9690 7000
Maddie Garratt maddie@www.zillaandbrook.com.au – 0422 857 722
Annika Priest annika@www.zillaandbrook.com.au – 0413 058 509