Welcome to cocktail heaven, Good Heavens opens today
The team behind Fancy Hank's are happy to announce their much-anticipated new rooftop bar, Good Heavens, will open to the public today.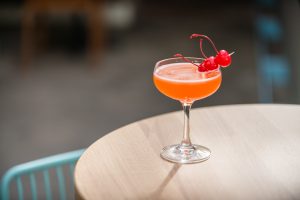 With warm weather and minimal rain predicted for this weekend, it's the perfect time to enjoy a 80's inspired cocktail in Melbourne's own Palm Springs style sanctuary, located on level 2 on Bourke Street.
Daragh Kan, one of the venues partner's said "It took us a bit longer to get open then we hoped, but we're super excited to show people what we've done with the place."
The cocktails, full of vibrant colours and classic flavours, are made with fresh, locally sourced ingredients and mixed with premium spirits, lending to a rejuvenated twist of some of those 'guilty pleasure' cocktail favourites, including the Harvey Danger and Good Mai Tai.
Other highlights from the cocktail menu include the Poco Loco, Good Heavens' take on the classic Pina Colada. Tropical, creamy and fruity, this cocktail ticks all the boxes with coconut fat-washed Havana Club Rum, pineapple juice, agave and a splash of Coco Lopez Cream of Coconut.
The Big Pharma will kick-start the night getting you ready for the dance floor. Using Fitzroy rum slingers The Rum Diary's house-made spiced rum, this is a twist on everyone's favorite Friday night pharmaceutical stimulant (more commonly known as the Espresso Martini). Their take includes Crème De Noyaux, Mozart Dark Chocolate, Black Eagle Cold Brew Coffee and a pinch of salt.
The bar snack menu, designed by venue partner and executive chef Mike Patrick, is a blend of Australian and American favourites and is a more casual take on Fancy Hank's offering located on level 1 downstairs. Hank's cheeseburger and the Nachos with brisket mole and queso are sure to please, while Fried cauliflower with vegan ranch dressing and the Artichoke dip will satisfy the no-meat inclined.
There are 10 beers on-tap from both local and international breweries as well as an impressive list of hard-to-find bottled craft selections. The wine and spirit list has been perfectly curated for outdoor drinking.
Good Heavens is the place to be during summer. Come and enjoy the extensive drinks list, a long supper with snacks and DJs every weekend. With a license for 200 people, get in early before those lines get too long.
Keep an eye on Facebook and Instagram for updates on DJs playing over summer.
Good Heavens
1/79 Bourke Street
Melbourne VIC 3000
Mon-Thu: 4pm-1am
Fri-Sun: Midday-1am
@goodheavensrooftop