Vote with your Art: Melbourne Fringe Festival 2017 registrations open April
Take a stand. Have a say. Listen to others. Change your mind. Then change it again.
In 2017, Melbourne Fringe embraces the capacity of the arts provoke, incite and inspire change. Artists are encouraged to get out of the echo chamber and use their art to take a stand. Dust off the soap box. Have a say. Use the power of their art in this increasingly turbulent 'democrazy'. Really what Fringe wants to know is: what is the role of the artist as political provocateur?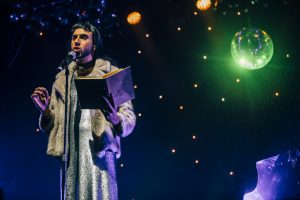 "The world needs artists to express themselves now more than ever. I know they have big things to say. Whether it's deeply political acts or moments of wild escapism, I know the artists of Melbourne Fringe will create an extraordinary collection of acts. I can't wait to see what they bring." Simon Abrahams, Creative Director and CEO, Melbourne Fringe.
Artist from all disciplines are invited to participate in the Melbourne Fringe Festival, Victoria's most vibrant independent arts showcase (14 September – 1 October 2017).
Artist registrations are open from Monday 10 April and close on Monday 29 May, but early birds who register before Monday 15 May will save $50 on the registration fee.
Local, national and international artists are all invited to apply via the Melbourne Fringe registration portal at melbournefringe.com.au. As always, Melbourne Fringe is a safe space for anyone and everyone to get involved, take a risk, explore and innovate. There are three ways to take part:
• Be part of the Fringe Hub by applying to present work at one of the venues managed by Melbourne Fringe in North Melbourne. Expressions of Interest are due by 26 April (so those who miss out still have time to register in the general Fringe program).
• Be part of an established venue by applying to join a specific program at one of Fringe's partner venues across the city, each with a different focus. Each venue has its own EOI forms and due dates – visit the Melbourne Fringe website for details.
• DIY Show, BYO venue and present work in another venue entirely.
The Ralph Mclean Microgrant program returns in 2017 for the second year. This grant initiative, named after the Chair of the Melbourne Fringe from 1986–1991, remembers Ralph Mclean's passion for celebrating diversity and art in all its forms. The small cash payments enable artists from diverse backgrounds to present their work at the Festival by assisting with the registration fee. Expressions of Interest open on Monday 10 April and close on Monday 24 April.
Melbourne Fringe Festival
Artist registrations open Monday 10 April
Early bird registrations close Monday 15 May
Artist registrations close Monday 29 May
Festival dates: 14 September – 1 October
Image: Church, Mama Alto. Melbourne Fringe 2016. Photo by Jacinta Oaten.