TGI Fridays couple up with Bistro Morgan for some Valentine's Love
Are you naughty or nice? This Valentine's Day the pioneers of classic American dining TGI Fridays has coupled up with Melbourne's doughnut prince Bistro Morgan to bring fun Spiked Shakes for a slice of sweet love. Designed to share, the Spiked Shakes are also the perfect indulgence for solo adventurers.
Couples can share the Nice Spiked Shake, (pictured left) a strawberry cocktail with Chambord, White Crème De Cacao, half cream & half milk, Brandy Snap, three scoops of vanilla ice cream, garnished with vanilla wafer tubes, shard brandy snap, a Bistro Morgan White Chocolate and Raspberry doughnut topped with fresh raspberry and mint.
More mischievous couples can satisfy their sweet cravings for chocolate and enjoy the Naughty Spiked Shake, (pictured right) a cocktail swirled with chocolate syrup, Malibu, Frangelico, coconut cream, chopped pecans, coco powder, three scoops of vanilla ice cream, finally topped with a chocolate wafer tube, mini bounty bar, and a Bistro Morgan Tim Tam doughnut.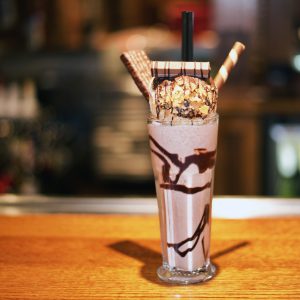 At 15 years Melbourne's doughnut prince Morgan Hipworth has had incredible success in the last year. Known for his inventive and creative doughnuts, his popup store sold over 10,000 doughnuts in a week. TGI Fridays is delighted to bring a fresh take to all TGI Fridays diners with this collaboration on Valentine's Day.
The delicious Spiked Shakes are an exciting addition to TGI Fridays continued journey with their Hand Crafted Flavours campaign. Starting with the Wings World Tour, then moving to the chicken burgers and the upcoming new flavours of wings, ribs and burgers, which are launching February 7. The Spiked Shakes are priced at $18 and are available across all Victorian TGI Fridays restaurants from Valentine's Day, 14 February until 28 February.
TGI Fridays http://www.tgifridays.com.au/