Susan Norrie unveils aftermath (2016) as part of Field Work 2006-2016
Susan Norrie, one of the Australia's most highly regarded multidisciplinary artists will premier an ambitious new moving image work, aftermath (2016), as part of her exhibition Field Work 2006-2016. Norrie's new work will open at the Ian Potter Museum of Art on Tuesday 15 March.
For the creation of this new work Norrie returned to East Java, Indonesia to the site of the LUSI mud volcano which she first explored in her monumental work HAVOC, 2006-07 with which she represented Australia at the Venice Biennale in 2007.
The date range of Field work's title 2006-2016 represents Norrie's commitment to and work as an artist 'in the field', as well as positioning the exhibition within a continuum that forms part of and contributes to her greater artistic project.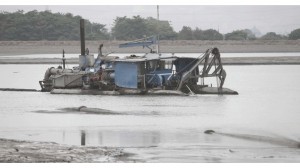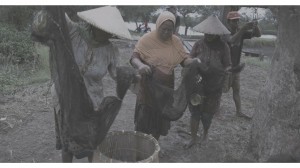 In aftermath (2016), Norrie returns to the devastation of the region of Sidoarjo nearly ten years after her original visit; demonstrating the interconnected nature of her film projects and her ongoing connection to her subjects, the local community. True to the artist's practice and training as a painter, the work evocatively conveys a mastery of documentary, cinematic and new media techniques and, in its ability to embody a sense of fragile beauty within the horror of large-scale environmental destruction, also offers a glimmer of hope.
Shown as two single channel projections across the Ian Potter Museum of Art's ground floor galleries, aftermath (2016) is the outcome of the artist's extensive research, which has ranged across disaster mitigation and cross-cultural disaster preparedness planning through to local shrimp farming techniques that draw on hundreds of years' knowledge and experience and that continue to be employed by the community after the LUSI volcano disaster. Despite its bleak and somewhat dystopian subject matter, aftermath (2016) contributes powerfully to Norrie's sustained rumination on the impact of man-made and natural disasters on the environment, on structures of power, the dispossessed, and on the extraordinary resilience of humankind.
The work's meditative pace, soundtrack and especially its painterly use of muted colour also refers to Dutch landscape painting, recalling Indonesia's complex history of colonisation and its ongoing legacy.
Susan Norrie: Field Work 2006-2016 is the sixth in the Potter's series of Vizard Foundation Contemporary Artist Projects, a creative initiative of the Vizard Foundation which offers mid-career and senior artists a significant grant to make new work, and to take risks and explore new directions in their practice. It follows on from projects by Julie Rrap (2015), Stephen Bush (2014), Philip Brophy (2013), Geoff Lowe / A Constructed World (2012) and Jenny Watson (2011).
Image credit:
Susan Norrie (Australia, born 1953)
aftermath 2016
Porong, Sidoarjo, East Java, Indonesia
video still
Courtesy of the artist
15 March – 26  June
The Ian Potter Museum of Art,
The University of Melbourne
Swanston Street, Parkville