Under the sun: Reimagining Max Dupain's Sunbaker
Under the sun: Reimagining Max Dupain's Sunbaker is a large-scale exhibition of new works commissioned from 15 artists responding to Australian photographer Max Dupain's iconic 'Sunbaker' image. Artists include Peta Clancy, Christopher Day, Destiny Deacon, Michaela Gleave, Nasim Nasr, Sara Oscar, Julie Rrap, Khaled Sabsabi, Yhonnie Scarce, Christian Thompson, Angela Tiatia. Kawita Vatanajyankur, Daniel Von Sturmer, Justene Williams and William Yang. Under the sun is a travelling exhibition produced by the Australian Centre for Photography (ACP).
The exhibition Under the sun: Reimagining Max Dupain's Sunbaker will be presented at Monash Gallery of Art in Melbourne from 6 May until 6 August 2017.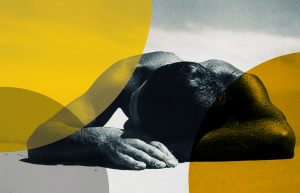 MGA Curator Stella Loftus-Hills said, "MGA is delighted to be hosting Under the sun and to be revisiting Max Dupain's 'Sunbaker' (1937) almost 80 years after its creation. Dupain's iconic photograph entered MGA's collection in 1980 and this exhibition is a wonderful opportunity for our audiences to view the work in the context of contemporary art and to reflect upon its relationship to current ideas around national identity."
Under the sun explores views of our culture, our identity and our nationhood through works that surprise, challenge and enthuse audiences. Commissioned by ACP, the mix of artists reflects Australia's multi-cultural, multi-ethnic and multi-faith nature, enabling a creative and often very personal exploration of the question 'is there something new under the sun?' These artists contemplate, challenge and interpret the representation of Max Dupain's photograph – which became an icon of a particular time and a particular vision of Australian culture – while offering unique perspectives on what it could possibly signify in our current society.
ACP Curator, Claire Monneraye said: "Max Dupain's 'Sunbaker', remains an iconic representation of the Australian way of life and a milestone in the history of Australian photography. In this exhibition, the 15 artists have interrogated the social and political implications embedded within this image but also challenged the status of this photograph in our visual culture. Pushing the boundaries of the photographic medium, their works expose the aesthetical complexities at play in discussions around collective identity.
Examining the legacy of the past and questioning the relevance that this image might retain in the future, the exhibition draws on a range of diverse practitioners and creative forms to consider questions of representation and cultural pluralism while also reflecting on the depiction of the idealised body, discussing gender issues, cultural and political ideas relating to immigration and colonisation, and our relationship with the land."

Under the sun: Reimagining Max Dupain's Sunbaker
6 May – 6 August 2017
Monash Gallery of Art, Wheelers Hill, Melbourne
Opening Hours: 10am – 5pm, Tuesday – Friday; 12pm – 5pm, Saturday & Sunday
Free guided tours every Tuesday at 11am
www.mga.org.au
MGA's public programs for Under the sun will involve artists' interviews and educational resources shared online, together with a series of public forums and creative workshops developed in partnership with ACP.
About Monash Gallery of Art
MGA, the Australian home of photography, is one of Australia's leading public galleries. Their mission is to collect, preserve and present Australian photography through innovative exhibitions, entertainment and education programs. MGA holds a collection of over 2,500 nationally significant Australian photographic works. As a result of their efforts to date, MGA is the only cultural institution in the country whose collection is focused solely on Australian photography. Entry to MGA is free.
Under the sun: Reimagining Max Dupain's Sunbaker is currently on display at The State Library of New South Wales until 17 April (www.sl.nsw.gov.au/exhibitions/under-sun-reimagining-max-dupains-sunbaker).
This project has been assisted by the Australian government through the Department of Communication and the Arts' Catalyst—Australian Arts and Culture Fund and received the support of the following Commissioning Partners: John and Kate Armati, Andrew and Kate Jerogin, Lisa Paulsen, Neill and Jane Whiston, Medich Foundation.
About the Australian Centre for Photography
As the leading agency for photography and photomedia, for over 40 years the Australian Centre for Photography (ACP) has supported and promoted contemporary artists, educated audiences and students of photography, and inspired conversations through lens-based artistic practices.
ACP showcases exciting contemporary photomedia art from Australia and overseas, in an agile and site-responsive program of exhibitions and public forums. ACP's national and international touring program consists of ACP-curated exhibitions travelling to museums and galleries in regional Australia and overseas.
The ACP Workshop continues to offer photographic education to adult students covering diverse areas such as Camera Craft, Street Photography, Darkroom, Lighting, Architecture and Fashion Photography. Students of all levels of expertise can learn first-hand from leading professional photographers.
ACP is supported by Arts NSW and the City of Sydney.