Sean Rielly and Callum Wright have the Bang Bang drinks lists locked and loaded
Sean Rielly and Callum Wright have been enlisted by Bang Bang at The Rifle Club to create a wine and a cocktail list (respectively) to go hand-in-hand with the carefully combined Southeast Asian and French flavours on the Indochine-inspired food menu. Bang Bang officially opened its doors on Wednesday 1st February and queues have been flying out the door ever since.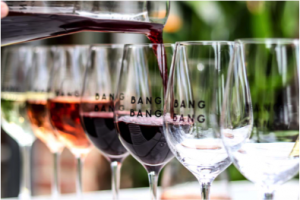 While Indochine flavours aren't always associated with drinking wine, Sean Rielly (ex-Healesville Hotel, Botanical) has successfully matched the wines to the sour, sweet, hot, spicy and bitter flavours. The whites are refreshing, crisp, aromatic and with a touch of sweetness. The reds are low in tannins, fruity, with acidity.
Patrons are offered the selection of wine by the glass, carafe or bottle, to enable flexibility and an opportunity to try a range of wines such as the Gemtree 'Gemstone' Chardonnay 2016 from McLaren Vale, SA or the Cave De Chautgne 'Vielles Vignes' Gamay 2014 from Savoie, France.
"The most popular wine since we opened has been rosé. Pale-dry rosé from the South of France has exponentially increased in popularity in the English-speaking world over the last ten years. We have listed a couple of different producers as it has been impossible to secure stocks to get us through the season! Rosé is rightly popular because it is delicious, food friendly, a lovely drink on its own, and looks so pretty in a glass on the table," says Rielly.
As Bang Bang moves into the colder months, Rielly plans to add some richer wines to the list and a couple more red, though nothing too heavy, in line with Rielly's aim to always complement the cuisine.
Melbourne has been blessed with gorgeous summery weather since Bang Bang opened, and it certainly has been the season for cocktail drinking. The Basil Cucumber Smash has been a crowd favourite – a punchy mix of Plymouth gin, pineapple juice, lime, Thai Basil and cucumber. A selection of refreshing spritzes are also available, including the popular Vermouth Spritz – Dolin Dry Vermouth, orange and holy basil topped with soda.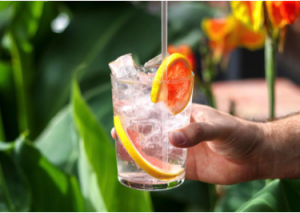 An Elsternwick local, Wright was integral to the set up of Magic Mountain Saloon in the CBD. He enjoyed the hustle and bustle and the late nights, but loves being able to work his cocktail magic on a smaller, community-oriented level.
"I live locally, and have seen the area evolve into a humming dinner and drinks district – it is exactly what the community needed."
Bang Bang at the Rifle Club is an exotic urban escape set against the leafy Elsternwick Station Reserve. A place to choose your own adventure, the welcoming all-day venue is a space to settle in and socialise in the Indochine-inspired surrounds.
Bang Bang at The Rifle Club
294 Glenhuntly Road
Elsternwick
www.bangbang.com.au