Ramesh Mario Nithiyendran: In the beginning 22 November 2016 – 26 February 2017
The Ian Potter Museum of Art at Melbourne University welcomes a rising star of Australian contemporary art, Ramesh Mario Nithiyendran, for his first Melbourne solo exhibition titled, In the beginning.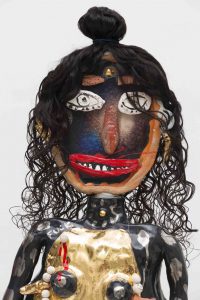 Showing from 22 November 2016 to 26 February 2017, Nithiyendran's specially commissioned exhibition represents an exciting development for the Sri Lankan-born, Sydney- based artist.
Nithiyendran is at the forefront of the recent revival in ceramics, being branded a 'bad boy' of the medium. Pushing the symbolic and material qualities of clay, Nithiyendran creates freethinking sculptures that break the conventional rules of ceramics.
Combining Hindu and Christian iconography with the subversive imagery of internet memes, his wildly misshapen characters act as avatars through which to explore gender and eroticism, particularly phallic imagery, as well as religion and popular culture, exoticism and outsider aesthetics.
The exhibition's title, In the beginning, refers to creation myths. To the artist, these ancient narratives about the origins of the world evoke analogies to the creative process and the generative potential of clay. "Nithiyendran has developed a unique sculptural language," says exhibition curator Jacqueline Doughty, "in which the malleability of clay symbolizes a radical fluidity of identity."
Across an entire floor of the museum, vibrant colour and exuberant wall drawings will contribute to an immersive environment populated by Nithiyendran's eccentric ceramic figures. Interacting with these figures will be a monumental unfired clay sculpture, a new bronze work, and a range of objects selected from the University of Melbourne's Cultural Collections, including ancient Greek pottery, Indian religious art and animal specimens from the Teigs Museum of Zoology.
The 28 year-old artist has exhibited both internationally and nationally; his work is held in various permanent collections, including the National Gallery of Australia, The Art Gallery of South Australia, Artbank and the Shepparton Art Museum. He was also awarded the 2014 NSW Visual Arts Fellowship and was the winner of the 2015 Sidney Myer Fund Australian Ceramic Award.
Sister Corita's Summer of Love will open the same day as In the beginning, running from 22 November until 26 March. The exhibition will journey the remarkable life and artwork of Corita Kent.

22 November 2016 – 26 February 2017 The Ian Potter Museum of Art,
The University of Melbourne
Swanston Street, Parkville
Image credit:
Ramesh Mario Nithiyendran
Self Portrait with Third Leg 2 (detail) 2016
earthenware, glaze, gold lustre, platinum lustre, porcelain, glass, twine, Indian human hair and enamel
170 x 50 x 70cm
Courtesy of the artist and Sullivan+Strumpf, Sydney
Photo: Simon Hewson