PHANTASMAGORIA Free arts festival in Alpine National Park
PHANTASMAGORIA is a free site-responsive festival produced by the Bogong Centre for Sound Culture that reimagines Bogong Village, located in the foothills of Victoria's stunning Alpine National Park.
Based around the concept of 'phantasmagoria' – a sequence of images like that seen in a dream – this illuminating project comprises performances, exhibitions and artist talks over the weekend of Friday 7 April to Sunday 9 April, followed by a legacy exhibition of video and sound works open each weekend from 15 April until 30 April (inclusive).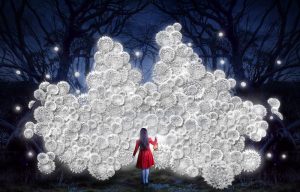 Curated by Madelynne Cornish and Philip Samartzis – co-founders of the Bogong Centre for Sound Culture – PHANTASMAGORIA distorts Bogong Village and transforms it into a world of shadows, murmurs and dreams. The festival uses contemporary art practices to create illusion and spectacle, tracing the vanishing individuals and communities that have marked the alpine region.
The festival arises from over 70 artist residencies that have taken place in the region since 2010, all funded by Cornish and Samartzis through the Bogong Centre for Sound Culture.
The pair's love for contemporary and site-responsive arts practices spurred them to found and fund the cultural initiative, which aims to facilitate a broad cultural program comprising, festivals, exhibitions, publications, master classes and artists' talks focusing on site-specific art practices. These programs establish a connection with place, its inhabitants, geographic space and memory.
Artists in PHANTASMAGORIA include Atticus Bastow, Matthew Berka, Peter Blamey, Elise Bonato, Sharyn Brand, Katharina Brauer, Ben Byrne, Christophe Charles, Madelynne Cornish, Melissa Deerson, Lesley Duxbury, Kylie Esler, Aidan Kelly, Daniel Lercher, Willy Merz, Harry Nankin, Overtone Ensemble, Charinthorn Rachurutchata, Geoff Robinson, Philip Samartzis, Gabi Schaffner, Jacqui Shelton, Utako Shindo, Erin K Taylor, Michael Vorfeld, Bryden Williams, Sarah Edwards, Kim Lane and Students of Mt Beauty Secondary College.
They have drawn on local knowledge, dreamtime stories, folklore, historical documentation and artefacts to create ephemeral works that respond to the social context, history, ecology and atmospheric conditions of the village.
The area now known as Bogong Village is in Alpine National Park between Mount Beauty and Falls Creek. The Bogong High Plains region is of great significance to both local residents and the traditional owners, including the Bidhawal, Dhudhuroa, Gunai–Kurnai and Nindi–Ngudjam Ngarigu Monero peoples who used to meet on the highest peaks of the alpine area before they were rapidly displaced by the influx of cattle drovers in the 1830s.
Bogong Village was established in 1939 as headquarters for the first hydroelectric scheme in mainland Australia and in the 1940s it became a thriving town that supported 300 workers and their families. Today, Bogong is home to a small remote community.
PHANTASMAGORIA
Festival dates:
Opening Friday 7 April (8pm onwards)
Saturday 8 and Sunday 9 April
Exhibition continues each weekend
through April
Bogong Alpine Village
Bogong High Plains Road, Bogong
www.bogongsound.com.au