Penny Byrne challenges boundaries in new sculptural exhibition, Brutal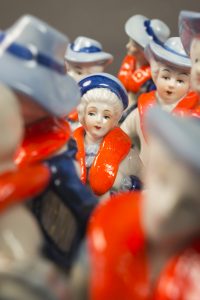 Linden New Art presents Brutal, a new small-scale exhibition by Penny Byrne running from 10 February to 8 March. While small in scale compared to previous work, Byrne presents a new collection of pieces with an uncompromising political punch.
Brutal will be the artist's first solo exhibition since her success at last year's 56th Venice Biennale and her sell-out solo show, Ettonez Moi, at Fehily Contemporary Art Gallery in 2014.
Using materials such as bronze, glass, vintage porcelain figurines and found objects, Byrne's work presents an ongoing inquiry into popular culture as well as Australian and international politics. "I always respond to the world around me in my work and for Brutal I won't be holding back. Nothing is out of bounds in this show – from the on-going war in Syria to paedophile priests, climate change, Australia's treatment of refugees, the migrant crisis in Europe and slut shaming on social media," says the artist.
Having created monumental works in bronze and glass in both Venice and Shanghai in the past two years, Byrne is pleased to be back in her Melbourne studio using ceramics along with plaster figurines.
Art has been a major inspiration in Byrne's life since childhood. She grew up in the regional town of Mildura and was inspired by her local surroundings. "The Mildura Sculpture Triennials during the 1970s had a huge influence on me as a child and exposed me to artworks that pushed the boundaries of popular taste and aesthetics," says Byrne.
Byrne jumped at the opportunity to exhibit at Linden as it holds a special memory for the artist. "My art career started when I entered an artwork in the Linden Postcard Show in 2005. I was a postcard winner that year, and the rest as they say is history".
Since this time Byrne has worked prolifically, both as an artist and ceramics conservator, which plays a big role in informing her practice, rendering her works as meticulous and studied subversions.
Image credit: EuropaEuropa, Deakin University Small Sculpture Prize 2015, Angela Baily
Penny Byrne, Brutal
Linden New Art
26 Acland St, St Kilda

Opening night: Thursday 9 February, 6-8pm
Exhibition open: 10 Februaray – 8 March