Panel Discussion: My Favourite Artwork – Collectors Share their Collections
In an incredible opportunity for contemporary art lovers to interact with Australia's best art collectors, the Town Hall Gallery is hosting a panel discussion in conjunction with the exhibition The Traveller: experiencing Movement, Time and Place, featuring works from the Lyon Collection, on Wednesday 4 May.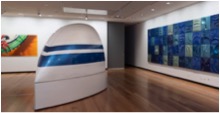 This panel discussion will give audience members a personal insight into key private collections of the Lyon Collection and Ten Cubed Gallery as well as how curators are working together with both public and private collections. Guests will have the opportunity to pick the brains of some of Australia's most significant art collectors and discuss ideas such as: Why and how people collect art; The difference between public and private collections and changes in how people have access to them; Details of the panel's experiences and some of their favourite works; Why collections are important in Australia.
Corbett Lyon, Chair of the Lyon Foundation, will be presenting works from one of Australia's most significant collections, the Lyon Collection. Corbett's architectural firm has received numerous national and international design awards and has twice exhibited at the Venice International Architectural Biennale. Corbett is one of Australia's leading patrons, commentators and collectors of Australian contemporary art.
Dianne Gringlas and Ada Moshinsky from Ten Cubed Gallery will also be presenting some incredible artwork at the discussion. For over ten years they have collected art from evolving top ten contemporary artists working in various media forms, including sculpture, painting, video art, photography and more. They will also share some contemporary art collections from Ten Cubed 2, from contemporary artists from around the globe. Ten Cubed 2 is an extension of the Ten Cubed project and aims to further connections between Australian and international artists, audiences and collectors.
David Sequeira is an independent curator, artist and educator who will speak at the discussion. His recent exhibition at The Ian Potter Museum of Art 'My learned object: collections and curiosities' demonstrated that the authentic first-hand experience of objects remains an important aspect of teaching, learning and research.
Spanning three gallery spaces, the Town Hall Gallery features a diverse range of contemporary public programs, curated exhibitions and exhibitions drawn from the Town Hall Gallery Collection, celebrating the rich cultural heritage of the City of Boroondara. Part of the Public Galleries Association of Victoria, the Town Hall Gallery supports local, national and international artists at varying stage of their careers, and offers a space for local artists and community groups to exhibit professional on the Community Project Wall.
Panel Discussion: My Favourite Artwork – Collectors Share their Collections
Wednesday 4 May 2016, 6.30pm – 8.30pm Chandelier Room, Hawthorn Arts Centre
Town Hall Gallery
360 Burwood Road, Hawthorn
Free bookings essential via:
http://www.hawthornartscentre.com.au/event/panel-discussion-favourite-artwork-collectors- share-collections/