Open House Melbourne Asks, 'What's The Beef With Brutalism?'
For the month of May, Open House Melbourne is paying homage to one of the most challenging architectural styles that exists today: brutalism. Join Open House for a series of screenings, talks and tours to consider people's beef with a Béton brut, explore the social significance of the style, and consider what is the new, new brutalism?
Emma Telfer, Creative Director of Open House Melbourne, said, "We have launched 'What's the beef with Brutalism?' in partnership with Heritage Council of Victoria and Assemble Papers in response to the challenges that significant post-war buildings are facing with the demands of a rapidly developing city."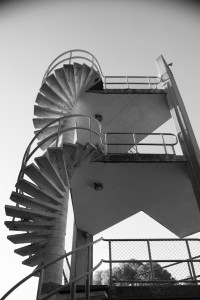 Open House Melbourne encourages the city's residents to stop and think about what type of city they want in the future: do they want to live in a place that celebrates diversity, heritage, good design and smart development? If so, then Melbourne's wonderful brutalist buildings need to be celebrated and protected.
Heritage Council of Victoria Chair Professor Stuart Macintryre AO said, "This program will help people appreciate the best of Brutalism, which, along with other modern styles, has added many significant buildings to Melbourne and is important in the evolution of our built heritage."
'What's the Beef with Brutalism?' will continue throughout the Open House Melbourne Weekend, with Brutalist buildings open and a Brutalist Love Fest film night on 27 July with DADo film society, part of the Robin Boyd Foundation.
Visit openhousemelbourne.org for the full program of 'What's the Beef with Brutalism?'.
Open House Melbourne is an independent, not-for-profit organisation that connects people with good design and architecture in our city through a year-round program of events, in addition to the annual Open House Melbourne Weekend. The Weekend in 2016 takes place on 30 and 31 July, with close to 150 buildings across wider metropolitan Melbourne set to open their doors.
WHAT'S THE BEEF WITH BRUTALISM?
PROGRAM HIGHLIGHTS
Film Screening: Bunkers, Brutalism and Bloodymindedness: Concrete Poetry
Presented by Heritage Council of Victoria and Open House Melbourne
ACMI
6.30pm – 9pm
Thursday 12 May
Free
A BBC FOUR two-part documentary in which Jonathan Meades makes the case for 20th-century concrete Brutalist architecture in homage to a style that he sees as brave, bold and bloody-minded. Tracing its precursors to the once-hated Victorian edifices described as Modern Gothic and before that to the unapologetic baroque visions created by John Vanbrugh, as well as the martial architecture of World War II, Meades celebrates the emergence of the Brutalist spirit in his usual provocative and incisive style. Never pulling his punches, Meades praises a moment in architecture he considers sublime and decries its detractors.
The screening will start with a conversation between special quests who will discuss Melbourne's brutalist architecture.
Brutalist Block Party
Presented by Assemble Papers and Open House Melbourne
122 Roseneath St, Clifton Hill
Brutalist Block Party is a May-long program of talks, workshops, lunches, dinners, social situations and a weekly produce market, presented by Assemble Papers and Open House Melbourne in a vast concrete-fronted warehouse in Clifton Hill – the site of a future development by Wulff Projects, Icon Co and Assemble. The full program can be found at brutalistblockparty.com.au
Talks include:
Utopia/Dystopia: Brutalism in film
Wednesday 18 May
6.30pm
Free
Jonathan Meades states that "Brutalism is the decor of dystopian films, literature and comics, just as gothic is for horror. Books and films have of course impinged on the way brutalist buildings have been judged down the years, assisting in their condemnation." Does Utopia even make a guest appearance?
New, New Brutalism: architecture for the people
Wednesday 25 May
6.30pm
Free
Emerging in the 1950s, New Brutalism offered affordable modern housing, improved community amenities, and an honesty of material after a period of architectural frivolity. We take a look at contemporary Melbourne projects that could be classified as the New, New Brutalism: projects that progress positive social agendas.