Nite Art 2017: Own the Nite Thursday 27 July
Nite Art returns in 2017 to once again uncover art after dark in Melbourne. From 6pm on Thursday 27 July, art lovers and night seekers are invited to explore our unique city through an interconnected network of galleries, museums, artist- run initiatives and undiscovered spaces.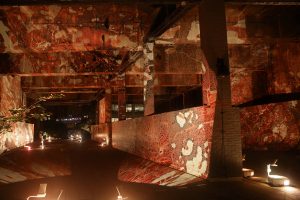 Nite Art 2017 will be made up of two precincts – the University of Melbourne and Central City – with a diverse and edgy program in collaboration with the City of Melbourne, the University of Melbourne and Open House Melbourne.
"This year Nite Art presents the work of more than 60 artists across 25 galleries, museums, artist run initiatives and area normally out of bounds. We invite you to join us to discover art and the artists that make our city. The night is free and all are welcome," says Nite Art co-founder Deborah Stahle.
University of Melbourne Precinct
This year, Nite Art plays host to a number of exciting international imports. At the University of Melbourne, the groundbreaking exhibition BLOOD will be exclusively previewed and presented by the University's new Science Gallery. This space is one of only five in a worldwide network of Science Galleries, with Melbourne's to be completed in 2018 but with a preview space open for Nite Art. BLOOD will feature a range of exciting new provocative works and experiences that explore the scientific, symbolic and strange nature of blood.
In another exclusive for Nite Art, Science Gallery will engage US artist Jordan Eagles to host his blood projection work, Illuminations (pictured), in a surprise location not usually open to the public. These projections have been shown internationally at the High Line New York and at festivals across North America.
German artist Fabian Knecht will also visit Melbourne for Nite Art this year. This young Berlin-based artist's interventions touch on the ill-definable border where seemingly everyday things merge into their inverse forms. Knecht will undertake a series of public forums, workshops and symposia presenting his work Isolation as part of Nite Art 2017. Over the past 12 months this ambitious work has been installed in the Ukraine, Berlin and Vladivostok landscape. Among others, Knecht's work has been shown at leading art museums in Zagreb, Reykjavík, Tokyo and Berlin.
Also new to the University precinct this year is Liquid Architecture's commissioned compositions utilising free music machines plus performances at the Grainger Museum; activation of University collections, and new work by contemporary photographers and digital artists using spaces in the digital studio, atrium and object-based learning labs at Arts West. There will be an exhibition, wine bar and live music at the Dax Centre, and so much more to be announced.
Central City
The Central City precinct comprises Flinders Lane, featuring 10 gallery and outdoor spaces; the Nicholas Building; a slew of ARIs and independent arts spaces and institutions.
Nite Art will take over Melbourne's a secret laneway location with renowned local street artists Phoenix. In another exciting international collaboration, Stoneclap will live-stream musicians to sites around Melbourne – think Skype, projected onto laneway walls, but with studio sound quality. The musicians can see and hear the audience from the other side of the world, giving Nite Art lovers the chance to communicate and engage with the artists.
Nite Art is part of a global shift happening in other art cities such as Berlin, Hong Kong and Tokyo that is changing the way people view and interact with art. The one-night art event recognises that art and culture is at the centre of our city, and creates a new conversation about Melbourne's cultural identity via collaboration, connectivity and legacy.
Nite Art 2017
Thursday 27 July, 6pm 'til late
Various locations across Melbourne
niteart.com.au