New Celestial Ground sculpture to be unveiled by Wonderment Walk Victoria
Wonderment Walk Victoria invites people to take a step into space with Celestial Ground, a new public artwork to be unveiled at Victoria Point apartments in Docklands on 10 November. The new artwork will be the third permanent installation by Wonderment Walk Victoria to promote art, science and knowledge throughout Melbourne and Victoria.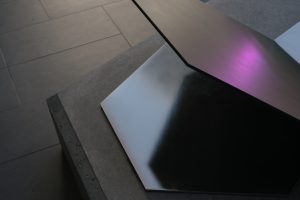 Wonderment Walk partnered with RMIT University School of Art (through its research centre CAST) for the artist selection process and chose Colleen Boyle(pictured below) to create the stunning polished concrete and etched stainless steel artwork. Its folding geometric plates are loosely based on the geometric diagram for a form of carbon (C60) which has been found in outer space.
One third of the panels will be etched with an image of the constellations that can be viewed from the southern hemisphere. Other panels will be polished to form mirrors – referencing the way telescopes allow us to look into outer space, but also how we look to the stars for self reflection. The sculpture will be installed in low-plinthed segments either side of the entrance to the apartments.
Artist Colleen Boyle said: "Celestial Ground will provide locals and visitors alike with an opportunity to contemplate their place in the universe, an idea that has the capacity to unite people in a world that is currently threatened with division."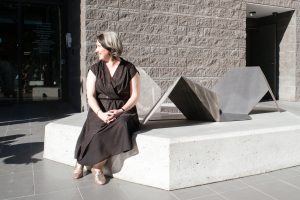 Victoria Point approached Wonderment Walk Victoria, as an advocate for the not-for-profit organisation's work, to install a piece of art that can be enjoyed by not only the Victoria Point residents but by Melburnians near and far.
The unveiling of Celestial Ground follows the permanent sculpture, also in Melbourne CBD, commissioned by Wonderment Walk, by John Olsen. Olsen's largest sculpture to date, Frog was launched in the Queen Victoria Gardens in December 2015. Frog references the more than 200 frog species that call Australia home, who are under threat from pollution and changes to their habitats. Another temporary sculpture has been planned for early 2017 as a pilot for the next permanent installation.
Wonderment Walk is an ongoing project founded by philanthropist Eddie Kutner to use art as a science communications medium to engage with and inspire viewers – whether they are actively visiting works, or are just passing by.
Eddie Kutner said: "We are thrilled that RMIT University Centre for Art, Society and Transformation (CAST) has partnered with WWV to provide opportunities to Melbourne's emerging artists."
To be installed around Melbourne and regional Victoria in the coming years, Wonderment Walk installations connect places of significance with scientific wonderments to create open-air galleries that complement and enhance Victoria's reputation nationally and worldwide as a place of art, culture and innovation. Wonderment Walk works build on Melbourne's growing reputation as a Knowledge City.
Wonderment Walk Victoria:
Victoria Point (corner of Bourke St and Harbour Esplanade, Docklands)