The Mystery and Beauty of LAIR | The Abandoned Boudoir
Step into the hotel room of an unknown woman to find the treasures and traces she has left behind – textiles, bed linen, jewellery and clothes hanging in the wardrobe. Why is she there? Is she on the run, doing business or visiting with a lover?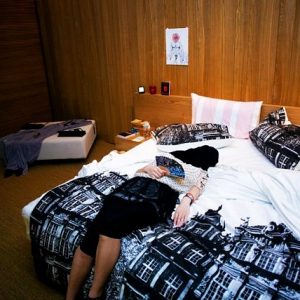 As part of the inaugural FLAIR Art Fair, The Abandoned Boudoir will take over a suite in the Sofitel Melbourne on Collins from August 18-21.
Using the hotel suite as an intimate exhibition space, The Abandoned Boudoir showcases Australian designed and crafted objects, playing on modern society's tendency for voyeurism and aspirational desires.
"I wanted to create an interior of intrigue and create beguilement," said Brunswick curator Marisia Lukaszewski.
First created in 2010 in collaboration with Asialink – travelling to Beijing, Bangkok, Taipei and Milan – The Abandoned Boudoir comes to Melbourne/Australia for the first time with new bespoke Australian art, craft and design including fashion by Alexi Freeman, digital media by Amanda Morgan, jewellery by Anna Davern, Lia Tabrah Tessa Blazey, Cass Partington, photography by Robyn Lea & Chris Orr, multi-media prints by Gavin Brown, bed linen and furnishings by Spacecraft and The Valentine Project, tableware by Beatrice Schlabowsky , and ceramics by David Ray and Andrew Nicholls.
Filling the gap previously occupied by the recently cancelled Melbourne Art Fair, FLAIR will take over the art galleries at the top end of Flinders Lane over four days: ARC ONE Gallery, Arts Project Australia (supported by NKN Gallery), Craft, fortyfivedownstairs and Sofitel Melbourne on Collins.
Image credit: Katharina Hesse, Untitled, 2011

FLAIR | The Abandoned Boudoir
18-21 August, 12.30-8pm. 15 people per half hour session.
In a suite in the Sofitel Melbourne on Collins
Free; booking essential – www.eventbrite.com.au/e/lir-the-abandoned-boudoir-tickets-26419154402
FLAIR Melbourne
18 – 21 August 2016
Top end of Flinders Lane, Melbourne

For more information on the festival, please visit: www.flairmelbourne.com