Music takes charge with Good Beer Week 'Good Times'
Live music and good beers go hand-in-hand, this year's Good Beer Week Good Times stream has the strongest live music line-up to date. Spread out over 10 days from May 13 to 22, the festival will showcase some of the world's best craft beer with some super fun tunes to match.
To kick-off celebrations, Mighty Duke & The Lords will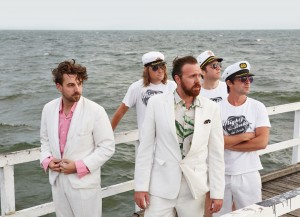 entertain crowds on May 13 at the Good Beer Week Opening Night Party happening at Beer DeLuxe Fed Square. The Opening Party will be full of good vibes, as special guests and plenty of Australian and international brewers get together to toast the start of the "best beer week in the world".
Lulie St Tavern will host Brews Springsteen. Thunder Road's brews will be flowing through the taps and tins will also be on-hand in the newly opened (and directly above Lulie St) Marfa Art Gallery. Beer matched eats will be fired up on the BBQ in the courtyard until late. What better way to celebrate Good Beer Week than with locally brewed beer, local musicians and The Boss providing the soundtrack?
The Old Bar will host Fixation Fest for a night of great bands and Fixation Brews. The classic pub has a banging new beer system and to celebrate, the first 147 punters in the door get a free Fixation IPA with their ticket (it would've been 150 but they had to sample a few). The great line up of bands include Foxtrot, Kissing Booth, Foley!, Summer Blood, Self Talk and Cosmic Kahuna.
AC/DC Lanes iconic Cherry Bar will host Rock 'n' Roll. Guzzle the treats from Young Henrys Brewing and rock out with The Ugly Kings and Atomic Riot. A free Young Henrys tinnie for the first 50 through the door, and Young Henrys specials all night, open until 5am.
Fitzroy's The Catfish and Cavalier Brewing will present A Briefcase Full of Beers. James Grimm and Paul Slattery front an amazing group of Melbourne's best blues musicians, along with special brews and classic 'Orange Whips' brewed by Cavalier.
Brewmanity and Mick Fanning's new brewery Balter Brewing Co. invite punters to Good Beer Week's biggest fundraising attempt to date, Beer vs Beast at Ormond Hall Village Melbourne as they unleash their collab brew 'The Beast Tamer'. Get along to an epic Sunday session of great music and bands, all to help raise funds for Motor Neuron Disease. In between sets of great Australian music from Mark Seymour from the mighty Hunters and Collectors, hear from the boys behind the beers.
270 events will run across more then 180 venues in Melbourne and Victoria. Good Beer Week 2016 is an independent and not-for-profit festival that overall celebrates and promotes the renaissance that craft beer is enjoying globally.
Visit goodbeerweek.com.au to purchase tickets.