Metanoia Announces Live Works 2016 Season
Metanoia's Live Works will take place at the Mechanics Institute in the heart of Brunswick from June through to August. The program is a commitment to diversity and innovation in contemporary performance and showcase a series of avant-garde live art pieces, featuring creators who are pushing the boundaries in their respective fields.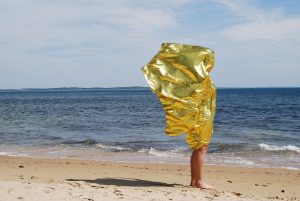 Speculative Subject (25 June, 2 and 9 July) is a postpostinternet dance work by Amanda Betlehem with artist Phebe Schmidt and a handful of dancers. Performed in unconventional spaces, the work focuses on non-descript but specific experience of subject(ivity). Betlehem produces choreography that is void of function to foster aesthetic experience.
Copy, Cut, Post (25 June – 10 July), led by Paula van Beek, involves a one-day workshop and public exhibition opening with live performances and audience art making, which will form the basis of an ongoing exhibition. Featuring ten female creatives of ages ranging from 21 to 50+, the project explores and documents ideas of self-identity for women in the age of social media.
Shian Law's New York Baby Ra-Ra-Ra (1 – 3 July) takes form as a multimedia performance lecture on the choreography of Philip Adams' Grey Area. Law's experimental piece investigates the original work with regards to today's socio-political climate.
Directed by Matthew Adey, The Spectre of Death Looms Large Despite the Variable Messages Being Inevitable aka the Chairs (2 – 3 July) is a durational live performance inspired by Eugene Ionesco's absurdist play, The Chairs. Conforming to a specific set of rules addressing time, space and people, two performers will react to changes within the studio space exploring new performance techniques.
Unseen (9 & 10 July) by visual artist, Lauren Simmonds, is a performance sparked by the unseen laws of nature. Through sculpture, sound and movement, Lauren Simmonds examines the patterns, habits and rituals which escape conscious awareness yet connect and confound humankind. Simmonds works with everyday materials which she activates in playful ways to change their inherent language to accentuate their innate qualities and untapped beauty.
Performance installation, Milk Bars (27 July – 6 August) will feature throughout the entire venue. Eight artists and designers will exhibit material inspired by the iconic Australian milk bar. Mixed lollies, new migrants, love stories and newspapers – everyone has a milk bar story!
"Metanoia are excited to present such a diverse range of experimental and hybrid works from so many great artists," says Gorkem Acaroglu, Creative Director of Metanoia Theatre.
Further details and tickets are available from www.metanoiatheatre.com
Metanoia Live Works Season 1 2016
25 June – 6 August
Mechanics Institute Brunswick
270 Sydney Road