Discover Melbourne's #secretingredient at the Melbourne Food and Wine Festival

River Graze Presented by Melbourne Water, 31 March – 2 April
This Melbourne Food and Wine Festival, Melbourne Water encourages festivalgoers to learn how water is the #secretingredient in all the great produce we eat, drink and grow. To illustrate, the world's largest floating fruit bowl will take pride of place on the Yarra River (next to the Southbank Pedestrian Bridge) during River Graze presented by Melbourne Water.
Held along the banks of the Yarra, River Graze celebrates the role water plays in the city's thriving food culture, and this year the fun will literally spill onto the river itself. The giant fruit bowl will highlight how water is the secret to Melbourne's culinary successes, with fruit stickers stating what percentage of each piece of produce is made up of Melbourne water.
Passers-by can grab a selfie in front of the giant fruit bowl, pick up some free seeds to grow their own produce, and learn more about how water is the secret ingredient!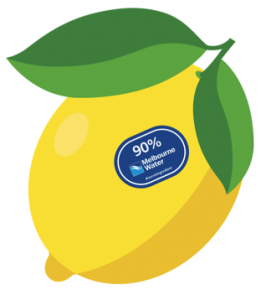 Michael Wandmaker, Melbourne Water Managing Director, said: "We are very lucky to be able to enjoy top-quality produce grown right here in Victoria, but it's not often we stop and think about how these fruit and veggies actually come into being and how critical water is in the process.
"We know that access to secure, reliable world-class water is critical to growing the beautiful produce we will all be eating over the course of the festival, so it's wonderful to be able to bring that story to life in a fun way with the world's largest floating fruit bowl on the Yarra!"
The floating fruit bowl is also a great place to bring the kids to learn more about where their food comes from.
Family-owned Mason Brothers Vegetable Farms is run by farmer Amo Mason, who is one of the largest producers of fennel, lettuce and broccoli in Victoria. Amo said: "At my farm we have excellent soil texture, a fabulous location and the position of Werribee South near the bay gives us cool nights and warm days, making for an ideal growing environment. Melbourne Water really is our partner in all of this, because without accessibility of quality, reliable water year-round, we wouldn't have this beautiful produce to send to market."
Executive chef Matt Stone from Oakridge said: "We're so fortunate in Melbourne to have access to such fresh and varied produce, all grown locally. The quality is the best anywhere in the world and the variety of produce allows for seasonal menus, none of which would be possible without water. For my menus, I source produce from local growers and farmers in the Yarra Valley and we also grow a lot of our own herbs and vegetables in our kitchen garden."
Chef Jesse Gerner from Bomba and Anada said: "Food and wine grown and produced in Victoria is outstanding and is critical to our internationally recognised restaurant, bar and café scene. The quality of the water and soil has a dramatic effect on the quality of produce that can be farmed. I am very proud to call Melbourne home."
The floating fruit bowl is a highlight of River Graze at Melbourne Food and Wine Festival. Over the Festival's opening weekend, the Yarra Promenade will be transformed into a culinary playground for big and little foodies alike, for three days of relaxed festival fun.

World's Largest Floating Fruit Bowl
#secretingredient #MFWF
River Graze Presented by Melbourne Water
Southbank
31 March – 2 April
River Graze opening hours:
Fri 4pm – 9pm
Sat 12pm – 9pm
Sun 12pm – 9pm