Melbourne Ballet Company presents new work: Guernica at Hawthorn Arts Centre 21 and 24 July
Melbourne Ballet Company will perform Guernica, a stunning performance inspired by Pablo Picasso's 1937 painting depicting the bombing of Guernica during the Spanish Civil War, on 21 and 24 July at the Hawthorn Arts Centre.
The work represents the suffering, brutality and destruction experienced in times of war and is the final stand-alone instalment of MBC's Intention and Desire series.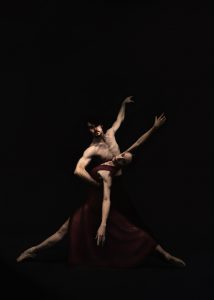 Like Picasso, the work's choreographer Simon Hoy aims to contrast dark themes with the beauty of life and the peace that emerges at even the worst of times for humanity. Sourcing inspiration from Shakespeare's Romeo and Juliet, Hoy has developed an original love story based on the classic play to highlight Picasso's message.
In this atmosphere of fear and the horrors of destruction when the darkness takes over, the two young characters – a young Basque woman, Juanita (Kristy Denovan), and a young Nationalist Officer, Ramiro (Alexander Bryce) – meet again by chance for the first time in ten years. At first not recognising one another, they eventually find the light in their hearts again. With the darkness giving them the illusion that they can somehow deal with the destruction surrounding them, the two lovers believe that their love can win out against this massive event of human cruelty.
With music by Ludovico Einaudi, Steve Anderson and Jóhann Jóhannsson, the performance is guaranteed to be an emotional ending to a dramatic trilogy and a beautiful celebration of love overcoming adversity.
The MBC is now in its ninth year of operation and consists of nine professional dancers who have trained with some of the world's most renowned companies including The Australian Ballet, La Scala Milan and The Paris Opera Ballet. Guernica is the company's fifth production at the Hawthorn Arts Centre following Motion Transcend in 2014, Lucidity and Archè in 2015 and Veil of Maya, the first instalment of this trilogy earlier in 2016.
Hawthorn Arts Centre presents an exciting and diverse arts program and is home to performance, exhibition, workshop and events spaces. Visitors can dine at the in-house café, Second Empire (open for breakfast and lunch), enjoy the Events Bar or one of the many nearby culinary delights that Hawthorn has to offer.
Guernica
Hawthorn Arts Centre
Thursday 21 July, 7:30pm
360 Burwood Road, Hawthorn
Sunday 24 July, 2pm
$40 Full, $34 Concession, $29 Under 16
http://www.hawthornartscentre.com.au/event/guernica/