Linden New Art collaborates with Arts Project Australia to produce Wild Lands
Linden New Art is proud to unveil its latest exhibition, Wild Lands, running from Friday 6 May until Sunday 17 July. Wild Lands is a group exhibition with a selection of emerging and mid-career artists from Arts Project Australia. The exhibition will showcase paper and ceramic works of exotic and wild animals from around the world.
Arts Project Australia is a not-for-profit organisation based in Northcote that provides support for artists with intellectual disabilities. The organisation assists with professional guidance, materials and studio and exhibition space. Artists involved with Arts Project are promoted on a broad contemporary spectrum and represented in mainstream art exhibitions and events.
"We are thrilled to be presenting Wild Lands, an exhibition featuring the work of six Arts Project Australia artists. This exhibition offers a dynamic insight into the corporeal existence of wild animals, from their majestic fierce beauty to their uninhibited and untamed nature. We think this will be an arresting and fitting accompaniment to Leith Maguire's solo exhibition," say curators Sim Luttin and Melissa Petty. Leith Maguire's exhibition Heads or Tails? will also open on Thursday 5 May at Linden New Art.
The artists taking part in the exhibition are: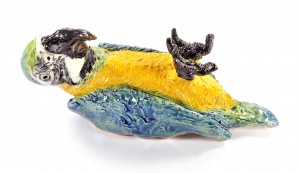 Chris Mason
Up and coming artistic figure, Chris Mason, is an accomplished artist in sculpture, drawing and painting. His eclectic work takes inspiration from a diverse range of subject matter, most notably trains, aircrafts, snakes, African animals, mermaids and voluptuously large women. Mason has a demonstrated ability to depict the female form in his sculptural work. He has been a regular at Arts Project since 1998 and has had three solo exhibitions in 2002, 2007 and 2014. His work has featured in multiple galleries in Victoria and across Australia and he was a finalist in the 2015 Deakin University Contemporary Small Sculpture Award.
Bronwyn Hack
A painter, ceramicist and 3D artist, Bronwyn Hack has become a prominent figure in Arts Project exhibitions over the last five years. Many of her works take inspiration from pop culture and her imagination, with a recent focus in exploring animals, specifically wild and domestic dogs. At times her work reveals an underlying painful melodrama, with a darker edge to the subject matter. Her first solo exhibition showed at Arts Project in March this year.
Dionne Canzano
Highly skilled figurative artist, Dionne Canzano uses dry pastel to create subject matter close to her heart. Canzano's work often conveys a wildness and ephemeral quality to subjects such as Elvis Presley, Collingwood Magpies and various animals. She has been a regular studio artist at Arts Project since 2000 and presented her first solo exhibition in 2003, followed by her second in 2011.
Michael Camakaris
Participating at Arts Project since 2011, Michael Camakaris employs a variety of mediums, ranging from gouache and acrylic paint, through to compressed charcoal and chinagraph. Often encompassing all techniques, his work frequently features safari animals, the avian world and human portraiture in a unique style. Camakaris evokes a sense of drama, depth and intensity to his subject matter. His work has been displayed in multiple group exhibitions as well as a solo exhibition in 2013.
Mathew Gove
Emerging artist, Mathew Gove, is talented across a variety of mediums, with his recent ceramic works drawing inspiration from mythological folklore people and creatures. Referencing historical objects and figures, his work often has a touch of science fiction. His small sculptures are striking interpretations of well-known and legendary characters such as Ned Kelly. Gove has taken part in multiple Arts Project exhibitions and was winner of the Darebin Prize in 2013.
Ruth Howard
Skilled painter Ruth Howard employs pastel or acrylic on paper, whilst occasionally creating small sculptures and collections based on animals. Having always taken an interest in wild and domestic animals, Howard's work has shifted to include references to transport, buildings and objects. Howard has exhibited work in a number of Arts Project Australia exhibitions since 1998 as well as a solo exhibition in 2015.
Exhibition curated by Sim Luttin and Melissa Petty.
Image caption: Chris Mason, It's not a parrot, 2009 ceramic, 13.5 x 31 x 12.5cm. Image reproduced courtesy of artist and Arts Project Australia. Penelope Hunt photographer.
Arts Project Australia Wild Lands
Linden New Art
26 Acland St, St Kilda!
Opening night: Thursday 5 May, 6-8pm Exhibition open: 6 May – 17 July