The Inaugural Annual Dance Affair
The Inaugural Annual Dance Affair comes to Hawthorn for a diverse musical mash-up, 20 and 21 July
Part theatre performance, part get up and dance, The Inaugural Annual Dance Affair is an all-ages dance event that immerses everyone in an evening of old time and new time dance floor magic, taking over Hawthorn Arts Centre on 20 and 21 July.
Bringing together diverse community groups, the event promises to be the ultimate night at the dance hall. Participants include the fabulous and elegant dance group Vietnamese Senior Citizens, an amazing collection of women who all arrived in Australia in the late seventies as refugees during the Vietnam War. Their leading lady is Yen Bui, an inspiring and incredibly funny woman who unites her dancers in a traditional routine.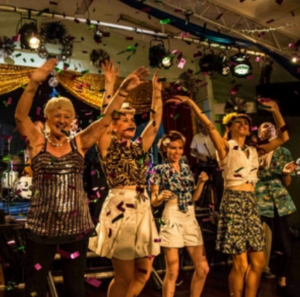 Dance Explosion's senior jazz class will put on a dazzling performance, testament to the camaraderie, care and com
panionship that grows between a group of dancers – many of whom have been dancing together for 15 years.
Also on the line-up is the electric nine-man band Sex on Toast, bringing their hip-swinging synth-funk to Hawthorn, and charming MC Ian Pidd (Everybody NOW!). The event will provide a platform to share heartwarming real stories from local community legends, for a funny, exhilarating and energising night.
Expect to hear from Bew Thay, Swinburne's International Student Coordinator, who arrived in Australia following on from four years in a refugee camp in India, after fleeing conflict in Burma. His story of remaking his life in Australia and raising huge amounts of money to set up an education institute in his homeland is an inspiration.
Israeli Circle Dancers will grace the stage. This social group meets to dance in their traditional style at a reform synagogue in East Kew. Dancers from e.motion21 will also perform – the e.motion21 program provides dancers with Down syndrome a space to meet and dance in a very supportive (and highly skilled) environment.
From the two-step to the tango, to a cheeky cha cha, and a waltz to funky free-styling grooves, The Inaugural Annual Dance Affair go-goes its way through a celebration of decades of dance.
The stories of local legends featured in the award-winning commemorative book Boroondara Remembers: Stories of World War I will be shared in honour of the former Hawthorn Town Hall's historical ties to both world wars and other conflicts and peacekeeping operations. The Hawthorn Town Hall was the host of major balls and other events during WWI, acting as the centre of the recruitment drive. It was also host to rallies both for and against the two conscription referenda.
Hawthorn Arts Centre presents an exciting and varied arts program and is home to performance, exhibition, workshop and events spaces. Visitors can enjoy refreshments at the Events Bar or explore Hawthorn and discover the area's culinary delights.
The Inaugural Annual Dance Affair Hawthorn Arts Centre, 360 Burwood Road, Hawthorn Thursday 20 July & Friday 21 July, 7:30pm Cost: $20 https://www.boroondara.vic.gov.au/events/inaugural-annual-dance-affair
The Inaugural Annual Dance Affair was supported by the Victorian Government. IMAGE CREDIT: Damian Stephens