Iconic photographer David LaChapelle headlines Ballarat International Foto Biennale with first ever exhibition in Australia
19 August – 17 September 2017
The Ballarat International Foto Biennale is thrilled to announce that iconic American photographer David LaChapelle will headline the month-long event with a major exhibition, nationally exclusive to the festival. This will be the first time LaChapelle will present an exhibition in Australia.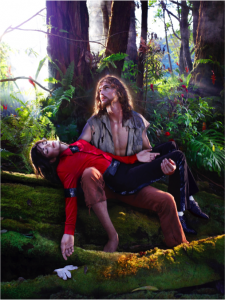 "David LaChapelle is provocative, at times irreverent, and emblematic of what the biennale aspires to be. We believe this exhibition will enhance our reputation as a world-class event and bring new audiences to our beautiful town of Ballarat," said Creative Director Fiona Sweet.
As well as marking LaChapelle's first solo exhibition in the country, BIFB will be the only Australian presenter of the exhibition, which comprises almost 90 of LaChapelle's works.
LaChapelle is recognised as one of the most important photographers of our time. He is one of the rare photographers able to transcend the barriers between fine art and commercial photography, often while communicating a profound social message. His hyper-realistic images are inspired by everything from social issues and political climates, to street culture and art history, to immortality and the metaphysical.
LaChapelle's career, spanning more than 30 years, has seen him photograph some of the most famous faces in the world including Michael Jackson, Madonna, Eminem, Andy Warhol, Elizabeth Taylor, Kanye West and Lady Gaga, to name just a few. His work is part of the public collections of institutions such as the National Portrait Gallery in London, the Los Angeles County Museum of Art, and the Tel Aviv Museum of Art.
Ballarat International Foto Biennale is a month-long celebration of international and Australian photography from 19 August – 17 September set in the historic surrounds of Ballarat. The festival is a platform for world-class photographic arts, comprising a core program of major exhibitions, a fringe program for emerging and established photographers, and an outdoor public program taking the arts to the streets of Ballarat, 24/7.
Buy tickets for David LaChapelle's First ever exhibition in Australia on www.ballaratfoto.org
Ballarat International Foto Biennale
19 August – 17 September 2017
http://ballaratfoto.org
#bifb2017
Image credit: Michael Jackson in 'American Jesus: Hold me, carry me boldly', Hawaii, 2009, David LaChapelle