Ian Pidd Awarded Inaugural Melbourne Fringe Festival Living Legend Award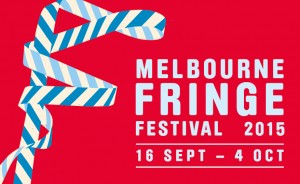 The winners of the 2015 Melbourne Fringe Festival Awards were announced on Saturday night as this year's festival came to its record-breaking conclusion.
Awarded across three categories – genre, professional development and touring – the 2015 awards recognise the quality and diversity of work that made up the 2015 Festival. Judged and awarded by a group of industry peers, this year's awards saw a number of first time recipients (Kin Collaborative Inc, Slown, Smallened & Son and Vanessa Nimmo & Matt Rankin), as well as two events that took out awards across multiple categories (We May Have To Choose and HART).
The 2015 Awards saw renowned theatre and festival director, Ian Pidd presented with the inaugural Melbourne Fringe Festival Living Legend Award. On the decision, Simon Abrahams, Melbourne Fringe Festival CEO and Creative Director said: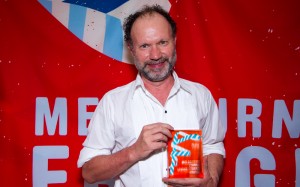 "Ian Pidd has been an integral part of Melbourne Fringe for over 25 years, as a champion for the independent arts, a mentor for emerging artists, an awards judge, and for many years working as Chair of the Fringe board where he developed and grew the Festival's strategy. His strategic influence continues to be felt within the organisation, and his artistic influence as a director of theatre, puppetry, live art, festivals, installations and community projects nationally and internationally has altered the practice of a generation of artists. Ian is committed to bold, new ideas and to taking risks, and he has as big a heart as any human on the planet. He is truly a Living Legend in every sense of the words. There is no greater friend of Melbourne Fringe than Ian Pidd."
Upon receiving the award, which will become an annual tradition for Melbourne Fringe. Ian Pidd stated; "I couldn't be more pleased to receive this honour. To my mind Melbourne Fringe is the most interesting and important Fringe in the world. Most other fringes have become de facto comedy festivals. But Melbourne, of course, has its own Comedy Festival, so the comedians (bless em!) haven't needed to colonise Fringe. And the other fringes around Australia are, unsurprisingly, dominated by Melbourne based artists. Melbourne Fringe is, quite simply, a snapshot of the incredibly vibrant arts scene in this city (with, of course a great handful of work from around the country). It really can't be said to be the fringe to or of anything. It's just what's going on. And what's going on at Melbourne Fringe can truthfully be said to be a large slice of what's going on in contemporary arts in Australia. Receiving recognition from such an institution will keep me cheerful for quite a long time, I can tell you. And long may Melbourne Fringe prosper!"
The Living Legend Award goes to an individual who has inspired and facilitated high quality work that provides an exemplar to the Melbourne Fringe community. The winner will have achieved a body of work that has raised the bar in Melbourne's creative community, daringly shifted the focus of practice, ideas and debate, supported other artists to create innovative and unique work and provided leadership and service to the sector which goes above and beyond the call of duty.
Other major category awards went to:
Best Cabaret: The Road to Shangri La, Mager & Smythe.
Best Circus: No Punchline, Sara Pheasant.
Best Comedy: Ghost Machine, Laura Davis.
Best Dance: This is What's Happening, Slown, Smallened & Son.
Best Kids: Reasons To Stay Inside, Katy Warner.
Best Live Art: The Ministry, Kin Collaborative Inc.
Best Music: Old Tech New Decks, Vanessa Nimmo & Matt Rankin.
Best Performance: FAG/STAG, The Last Great Hunt.
Best Venue: The Butterfly Club.
Best Visual Arts: AS IF: 40 Years and Beyond, Australian Women's Art Register.
People's Choice Award: wtf renaissance.
Presenting 401 events across nine genres, the 2015 Melbourne Fringe Festival was the largest in the Festival's history, supporting over 6000 artists to present work in over 160 venues. Ticket sales for 2015's Festival topped the previous year's record high levels.  Registrations for 2016 Melbourne Fringe Festival will open in April 2016.
IAN PIDD BIOGRAPHY
Ian Pidd is a Melbourne based freelance director of theatre and festivals including Artistic Directorship of Back To Back, Green Room award nominated Minds Eye, along with ten years of works at Snuff Puppets. Ian has directed shows for The Business, Barry Morgan, Polyglot and many others. Ian has been the artistic director of festivals as diverse as Moomba and The Works and was for six years the Chair of Melbourne Fringe. He is co-artistic director of boutique festival The Village and was founding Artistic Director of Junction Arts Festival (JAF) in Launceston. For the last eight years he has curated the Village program and participatory works at all three Falls music festivals. Ian has an ongoing relationship with the creative community in Yogyakarta, Indonesia, where he has directed a series of large outdoor theatre works, as well has hosting a number of Indonesian artists on projects in Australia.  Ian has sat on funding panels for the Australia Council, Arts Victoria, Arts Tasmania and the City Of Melbourne. Most recently Ian was one of the key artists in Dookie Unearthed (part of Region Arts Victoria's Small Town Transformation project), is directing a large social dance project for Bleach Festival on the Gold Coast and is directing a super 8 animation project with young refugees in Melbourne.