Gontran Cherrier and Fancy Hank's announce delicious collaboration
Collingwood's artisan boulangerie Gontran Cherrier and Melbourne's premier barbeque institution Fancy Hank's have joined forces to create a French American sandwich, available at both venues. Patrons will be able to enjoy Gontran Cherrier's miso rye sandwich with Fancy Hank's house cured and smoked pastrami with smoked cheddar cream cheese and pickled onions.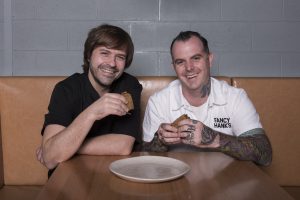 Available to the public from April 11, northsiders can get their fix of Fancy Hank's over at the Smith Street boulangerie, while city goers can enjoy a taste of Gontran Cherrier at the Bourke street barbecue joint, priced at $12, and available for take-away as well as dine in.
Don't miss the chance to enjoy this hybrid creation of French and American flavours.
Fancy Hank's slow cooked barbecue and Cherrier's signature artisan bread is a match made in heaven with this exciting new product. Both Gontran and Mike Patrick have become well known in Melbourne for serving up the best quality products in their cuisines, and chose to team up to offer fans something different with this smoky goodness sandwich.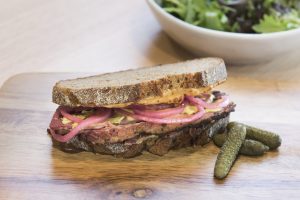 Gontran Cherrier
140 Smith Street, Collingwood
www.gontrancherrier.com.au
Instagram: @gontrancherrierau
Fancy Hank's
1/79 Bourke Street
Melbourne VIC 3000
www.fancyhanks.com
Instagram: @fancyhanksbbq/