Gontran Cherrier celebrates Bastille Day French Festival at Meat Market 15 – 16 July 2017
Gontran Cherrier, Collingwood's artisan boulangerie is celebrating Bastille Day at the Bastille Day, French Festival Melbourne 2017 held at the Meat Market from 15 – 16 July. Festivalgoers can indulge in traditional crusty French baguettes, buttery croissants, melt in your mouth pain au chocolat and more.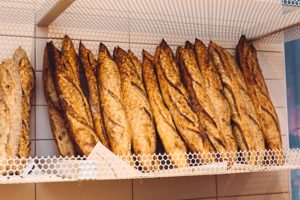 The festival celebrates all things French and the Alliance Francaise de Melbourne promises this year to be bigger and better than ever. With workshops, art exhibitions, live performances, a kid's area and some of Melbourne and France's best food and drink.
The team from the Collingwood-based artisan boulangerie will be serving up their popular French sweet treats to the public, including the decadent mille feuille, eclairs, tarts and brownies, as well as their award winning baguettes. This month Gontran Cherrier was awarded the 4th Best Baguette by City of Paris, the crusty and chewy baguettes were judged based on cooking, taste, crumb, appearance, weight, size and salt content. The 4th best baguette in Paris will easily be the ultimate best baguette in Melbourne!
The festival, now in its third year, brings together the French population of Melbourne and the city's French enthusiasts, for a wonderful celebration over a wintery weekend. Gontran Cherrier is well known for putting a contemporary spin on France's favourite treats, so expect a stunning display to choose from.
Guests will be able to celebrate Bastille Day in true French fashion, enjoying cheese, wine and some of the best bread in the world.
Bon Appetit!
Bastille Day, French Festival Melbourne 2017
Venue: Meat Market, 5 Blackwood St, North Melbourne
Date: 15-16, July 2017
Time: 10am to 5pm
Entry Fee: $2
Gontran Cherrier
@gontrancherrierau