Get Inside Metropolitan Melbourne on 30 and 31 July and throughout the month of July
Open House Melbourne is opening the doors to more buildings across Melbourne than ever before. The Open House Melbourne Weekend takes place on 30 and 31 July this year and offers an expanded footprint beyond the central city and into metropolitan Melbourne.
In addition to the Weekend, Open House Melbourne continues to promote public engagement with architecture and the built environment with its full program of events throughout July.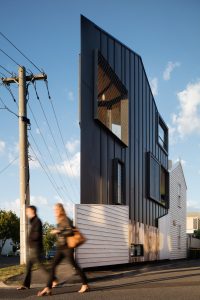 Building on the success of the 'What's the Beef with Brutalism' May-long program which saw hundreds of Melburnians engage with the idea of valuing diverse and sometimes challenging buildings, Open House will now offer three month-long programs throughout the year, with the next month-long program running in July to align with the popular Open House Weekend on 30 & 31 July.
From the popular Speaker Series and Documentary screenings at ACMI, the Open House Melbourne July program sees a special collaboration with the Wheeler Centre: Access All Areas, a program of intimate conversations with Melbourne writers in the local buildings that have shaped their work. Also opening in July as part of the Open House program is RMIT Design Hub's Exhibition: Occupied, an exhibition that looks at proposals for housing more with less, retrofitting, adapting and repurposing existing structures and environments.
With the Weekend program featuring over 140 buildings, from Willsmere in Kew, a unique heritage-listed residential estate, to the beautiful Dolls House home in Northcote, Open House is encouraging Melburnians to venture to the suburbs, get to know the other side of town and discover their own neighbourhoods like never before.
"As we move towards our 10-year anniversary in 2017, we are committed to opening the doors of a larger number of significant buildings across Melbourne. People will be able to explore buildings and places in their own neighbourhood that have helped shape the city. The Weekend is a chance to challenge your opinion about architecture, build your knowledge about Melbourne's history, learn about other cultures, and arm yourself with information about future developments that will impact the city," says Open House Melbourne Creative Director Emma Telfer.
Open House Melbourne Weekend highlights include:
• Institute of Sport, Exercise and Active Living Victoria University, Footscray – This $68 million state of the art research facility has 29 sport and exercise science research laboratories including Exercise Physiology, Biomechanics, Motor Learning and Skilled Performance and Molecular Biology. It is supported by an adjacent exercise rehabilitation clinic, pool and gymnasium facilities.
• Jack's Magazine, Maribyrnong – a heritage-listed former ammunition store by the banks of the river, Jack's will open its doors for guided tours of its bluestone buildings, tunnels, tramways and earth blast mounds that showcase Victoria's military and industrial past
• The Dolls House, Northcote – this award-winning residence by BKK Architects is home to the building's architect and his family
• Acute House, Albert Park (pictured) – the extraordinary home by OFF! Architects is on a tiny, triangular site, illustrating how architecture can transform small urban spaces.
Since 2008, Open House Melbourne has been championing the city's architecture and built environment through the July Weekend and year-round program. Open House's mission is to inform people about what makes for a well-designed, vibrant and liveable place now and in the future.