A Foodie Feast at Good Beer Week 2017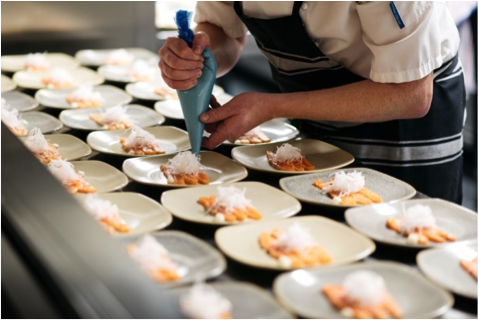 In 2017, Good Beer Week's Foodie stream continues to attract some of Melbourne's and the world's best chefs to the food capital of Australia. Festival-goers will experience the best of beer and food matching at the 69 food-focused events taking place during Good Beer Week from 12–21 May.
Kicking things off on Saturday 13 May is The Architecture of Food at Meatmaiden with SAMPLE. This collaborative event stars a lunch constructed around the three core principles of architecture: firmness, commodity and delight. This unique experience will satisfy the senses in the same way architecture does – with substance and beauty – accompanied by SAMPLE brews.
Visit the Good Beer Kitchen at Arbory Bar on Sunday 14 May, where Arbory Executive Chef Nick Bennett will team up with three of his chef mates. Guests will be entertained by 3RRR's Eat It! Host Cameron Smith, while each of the four chefs demonstrate how to cook a course of lunch using a beer from one of four celebrated breweries – Balter Brewery (QLD), Pirate Life Brewing (SA), Two Birds Brewing (VIC) and Stomping Ground Brewing Co (VIC). Guests will be treated to a plate of each course matched with a beer from the starring brewery.
Crowd favourites Stone & Wood have teamed up with IDES for an intimate lunch on Sunday 14 May. Executive chef Peter Gunn will present a series of stunning dishes from the hatted Collingwood restaurant paired with highly limited pilot batch beers from the independent craft beer pioneers.
On Monday 15 May, join Smith & Daughters and Boatrocker for one of Good Beer Week's first all vegan events. Chef Shannon Martinez will be working closely with Boatrocker to create a four-course menu of surprising meat free dishes paired with Boatrocker's finest beers.
The Rochester Hotel has your mid-week feast covered, with a four course dinner showcasing the best of the Mornington Peninsula, as the team from Red Hill Brewery match their brews to dishes from the Rochey kitchen. Then on Friday 19 May, head to Soko Sushi for an 11-course sushi degustation, as they pair beers from Japanese brewery Coedo with incredibly fresh seafood, showcasing the unique flavours of their individually kneaded nigiri sushi pieces.
For those short on time – or just eager to fit in as many good beer adventures as possible – the Smudge Eats Menu Presented By Mountain Goat offers foodies the chance to enjoy a two-course lunch at one of 20 Melbourne restaurants, all matched with a Mountain Goat beer, for $40. With lauded venues such as Gazi, Pastuso, Maha and Uncle as part of the line-up, it's the perfect way to enjoy Good Beer Week all week long.
Good Beer Week is an independent and not-for-profit festival that celebrates and promotes the renaissance that craft beer is enjoying globally. Since the festival's inception in 2011, its central aim is to promote good beer and the community and culture that surround it.
Image credit: Simon Shiff