Focus on Fashion at the Melbourne Design Market
Sunday 6 November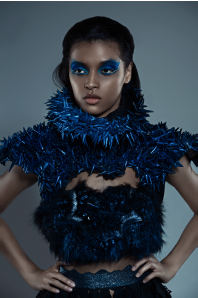 Now into its second decade, Melbourne Design Market has launched thousands of new products, profiled hundreds of designers and provided a shopping haven for design lovers across all sectors. Fashion has always been a strong category at the market, and the upcoming event on Sunday 6 November is no exception, with a wide variety of fashion designers showcasing their original products and ideas directly to shoppers.
Melbourne Design Market provides a unique opportunity to meet face-to-face with designers and find out more about their products and the work behind them, as well as about the designer's ethos and creative process.
Miranda Dix
A new addition to the Melbourne Design Market, RMIT 2015 graduate Miranda Dix showcases her use of 3D pattern making, surface embellishment and textile manipulation. Inspired by a French wasp, or 'guepe', Miranda collaborated with a Melbourne entomologist to understand the microscopic elements of insects and has created a collection that explores the connections between the human condition and this very small, beautiful world.
Atelier Nomada
Flavia Barar creates contemporary jewellery in sterling silver and gold with precious and semi-precious gemstones. All pieces are designed and handcrafted by Flavia in her Fitzroy studio, made in small quantities with infinite passion. Her work reflects her enthusiasm for clusters found in nature, geometry, architecture, stones etc, and each piece of jewellery is a composition in itself. These handmade objects are born out of a form finding process, seeking the "perfect imperfection".
MK Nordika
Marie Kullenberg grew up in a "forest kindergarten" in Sweden where no matter what the weather, children were encouraged to play, explore and learn outdoors. They wore well-made, comfortable rainwear to keep them dry and warm. Now based along the Great Ocean Road, Marie imports Scandinavian rainwear for both children and adults alike. The material is soft, lightweight and PVC free. It is also breathable, durable and machine-washable. This will be MK Nordika's first time presenting her gorgeous products at a Melbourne market.
Lott Studio
Understated and timeless, each piece is designed with high quality metals and stones by Kari Layton to adapt to an ever-changing lifestyle. Lott Studio began as a personal project that started in Berlin, Germany. After a few years studying jewellery design and selling at local boutiques and friends in Berlin, Kari returned to Melbourne where Lott Studio is now based. Lott Studio is for the elegantly understated and made to be worn everyday. Simplicity, androgyny, form and function are the key elements Kari considers when designing each piece.
Theo the Label
Melbourne born Theo the Label showcases a soft spot for sustainability – believing ethics are just as important as aesthetics in the definition of style. Endorsing a uniform of jeans, tees and sweaters, founder Esther Kirwan excites the tomboy in all of us, curating an adventurous yet refined wardrobe that stays relevant season after season. Melbourne Design Market has provided a shopping haven for design lovers who have flocked to the iconic event since 2004, and continues to provide a vital platform connecting consumers with creators. With organic food and coffee by The Bean Alliance, Melbourne Design Market brings together all of Melbourne's great loves under one roof.

The Melbourne Design Market
Sunday 6 November – FREE ENTRY
10:00am – 5:00pm
Federation Square, Melbourne
melbournedesignmarket.com.au