Festival Club celebrates the spirit of Melbourne Fringe Festival – 15 September – 2 October
Deep within the North Melbourne Fringe Hub lies the pulsating heart of Melbourne Fringe, the Festival Club. Festival-goers can expect to dance, sing, see live performances and celebrate in the true spirit of the Festival.
A place for everyone, the Fringe Club's diverse program invites audiences of all persuasions to immerse themselves in art. The young, the queer, the disabled, the large, the small, the culturally diverse, the bravest people with the boldest ideas can all call the Fringe Club their second home this Festival.
It is first in best dressed with a fabulous free program every night of the festival (except Mondays). Highlights include:
Amazon Wonderland
South American fiesta celebutante El Tarro hosts a night of psychedelic tropical culture delight. Expect electric beats, jungle underground music and optical illusions.
Saturday 17 Sept, 10pm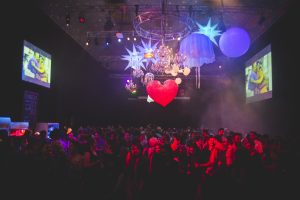 Church
It's time to worship at the altar of self-love and creative expression. Wear your Sunday best and shout as countertenor diva, jazz singer and cabaret artiste Mama Alto puts the glory back into Glory Be.
Sunday 18 Sept, 9.30pm
Mixtape Memoirs
Writers June Jones, Alia Gabres, Hannah Donnelly, Bart Freebairn, Emily Taylor and Paola Balla have each chosen a song that has changed their life. At this special event hosted by The Lifted Brow, these writers will delve into the memoirs, remixing songs into readings, poems and spoken word.
Tuesday 20 Sept, 9pm

Flesh Fanatics
From the surreal to the sublime, this series of performances exposes the best of flesh and celebrates bodies in all their glory. Hosted by Holly Durant with a dance floor by DJ Tanzer and DJ Jane Fondler.
Wednesday 21 Sept, 9.30pm
Uncomfortable Science
Host Lachlan Mitchell transforms a whiteboard into sheet music, writing chord progressions as the band plays live. Presented by Wondercore Island – the team behind Hiatus Kaiyote, Oscar Key Sung, and Jazz Party – this is improvised composition at its hottest.
Thursday 22 Sept, 10pm
Immaculate
Madonna Louise Veronica Ciccone; icon, unintentional feminist and terrible actor. Madonna's music, films, and, most importantly, her children's books will be dissected by Melbourne's finest in this twisted celebration of pop culture, feminism and religious iconography. Presented by Little Ones Theatre, expect an ensemble of live music, dance, aerobics and Voguing.
Friday 23 Sept, 10pm
Femme Art Punk
A dance party of alternative counter-culture and independent Melbourne musicians with a line up including Po Po Mo Co, Eden Swan, Bahdoesa and DJ Brooke Powers, presented by Grrl Fest.
Saturday 24 Sept, 10pm
The Moth StorySLAM
Discover a sense of self or air a story untold at The Moth's live storytelling event. Storytellers are drawn from a hat to take the stage and narrate five-minute tales around the theme of Lost and Found.
Tuesday 27 Sept, 9pm
Form as Vibration
Hear my Eyes present an audiovisual experience of short film and live music as a mashup masterpiece. Form as Vibration will feature Yolke front man Errol Green and acclaimed Melbourne singer-songwriter Emma Russack.
Wednesday 28 Sept, 9.30pm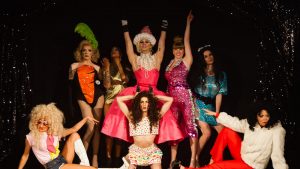 Yummy Up Late
A delicious mix of non-stop pop, queer-lesque delights and twisted cabaret hosted by James Welsby (BRIEFS). Expect performances from Beni Lola, Karen from Finance, Tanzer, Beni Lola and Hannie Helsden at what will be a mouth-watering night.
Thursday 29 Sept, 10pm
Noughties by Nature
Presented by Anna Go Go and Talei Wolfgramm, audiences will travel back in time to learn iconic 00s dances from favorite noughties hits. DJ Weir and special guests will take over the dance floor for what is set to be the biggest party since the millennium.
Friday 30 September, 10pm
On the Mark
For the secret majority who love art and sport, audiences can catch the AFL Grand Final at the Club, commentated by award-winning comedians Laura Dunemann and Geraldine Hickey. With a half time show by Thando and an anthem rendition by cabaret darling Tina Del Twist, there will be no room for Meatloaf at this Grand Final party.
Saturday 1 October, 2.30pm
Melbourne Fringe fosters the idea of cultural democracy – of art for everyone – which is why established and emerging artists stand side-by-side testing bold new work. With over 460 events, Melbourne Fringe is a fun, affordable way to experience new and exciting art in Melbourne.
Melbourne Fringe 2016
15 September – 2 October
www.melbournefringe.com.au