An Exploration of Alternative Food – Grub's Bug Dinner
Take a walk on the wild side – sup on tempura cricket San Choy Bow and ant crepes when Bug Dinner comes to Fitzroy's Grub.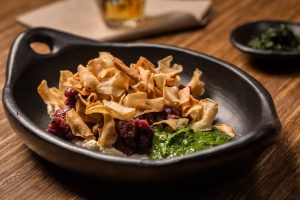 Environmental Film Festival Australia in conjunction with The Social Food Project is proud to present a sustainable 'harvest style' tasting event like few others have seen before.
Exploring themes present in the EFFA selected films Bugs on the Menu, Sustainable and Kubo's Crickets, this is a unique opportunity to release the bugs out of the cinema and onto diners' plates, as they experience a specially designed sustainable menu of their own.
Partnering with chef Ben Mac, founder of The Social Food Project and previously from Supernormal and Top Paddock, this special event will offer diners the chance to embark on a gastronomic adventure that will quite literally involve grubs.
"This dinner is all about putting a good idea into action," said Ben Mac.
"Most of us have heard that eating bugs is an environmentally friendly way to get protein, but how many actually seek them out for dinner? This is a great opportunity for me as a chef to communicate more sustainable ways of eating food, that is also social, exciting, and of course, delicious."
Come prepared to be taken on an exploration of alternative food economies that seek to promote a fair and environmentally prosperous future.
Bug Dinner
Monday 3 October
6pm – 9pm
$140 (dinner and drinks)
Buy tickets: https://www.eventbrite.com/e/effa-and-sfp-presents-sustainable-feast-grub-tickets-27424261705
Grub Food Van
87-89 Moor Street, Fitzroy
www.grubfoodvan.com.au