Experience Art Town 2016 through an intimate ArtWalk
Join ArtWalk Melbourne in unearthing artists, designers and spaces during Art Town 2016 on one of their popular guided tours. Taking place on Sunday 3 April from 11am until 12:45pm, participants will discover urban artists at work as they bring galleries, walls and spaces alive with their vibrant artistic creations during Art Town 2016.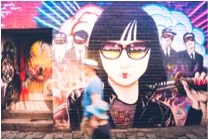 Participants will meet at Two Lost Boys Café for a coffee kick-start and a peek at the newly installed Peter Cole sculpture That's Life at Windsor Station. Over the following hour or so, an experienced ArtWalk Melbourne guide will reveal some of Melbourne's best local and international street art while exploring Chapel Street Precinct's ever-changing kaleidoscope of energy and creativity.
Highlights from this immersive artistic experience include:
Ele Miško / Kit and Ace
For Art Town 2016, fashion designers Kit and Ace offer their studio to an artist in residence, jewellery designer Ele Miško. Ele presents sculptural pieces that are inspired by new and old architecture, and they defy traditional social conventions of preciousness.

Artists Lane
One of Windsor's most iconic laneways features work by local and international street artists, including new works unveiled during the recent Windsor & Co Block Party from Unwell Bunny, Heesco, Rad, Putos, Paul Round and Chris Hancock.
Union Heights
Melbourne's new destination store for anything hip hop. The crew will host a live art event – the Box Truck Project – on the first weekend of Art Town.

Anna Pappas Gallery
The ArtWalk will conclude at Anna Pappas Gallery, with exhibitions from a variety of artists such as Samuel Hodge, Michael Prior and Claire Anna Watson. Later in the afternoon, guests are welcome to return to Anna Pappas Gallery for a special performance by critically acclaimed musicians Nick Tsiavos and Deborah Kayser.

Art Town 2016 presents ArtWalk
Meeting Point: Two Lost Boys Cafe (opposite Windsor Station)
Sunday 3 April, 11am-12.45pm
$19.50
Bookings through eventbrite.com.au (search Chapel Street Precinct)