EXIT: ART + CLIMATE CHANGE 2017
19 April – 14 May, 2017 
CLIMARTE and the Ian Potter Museum of Art at the University of Melbourne are thrilled to present EXIT as part of ART+CLIMATE=CHANGE 2017, a festival of exhibitions and events harnessing the creative power of the arts to inform, engage and inspire action on climate change.
In support of the Victorian Government's new initiative TAKE2, CLIMARTE and the Ian Potter Museum of Art have developed a set of valuable education resources around EXIT for teachers and students.
TAKE2, delivered by Sustainability Victoria, is the state's collective climate change program that encourages all Victorians to take action on climate change. TAKE2 provides free, tailored advice and support to schools, organisations and individuals on how they can act to reduce climate change, and aims to help Victoria achieve net zero emissions by 2050. Schools are encouraged to join TAKE2 to lead by example in the fight against global warming.
More than 40 schools have already pledged to do their part in TAKE2, including Brentwood Secondary College. The college is a leader in the area of sustainability, having been named Sustainability Victoria's ResourceSmart Energy (Secondary) School for 2016, and is one of the latest schools to join TAKE2. At present, there are 500 Victorian schools actively participating in the ResourceSmart Energy program.
"EXIT provides an important opportunity for students to engage with global issues through expert data presented as a compelling and immersive work of visual art," says CLIMARTE CEO and ART+CLIMATE=CHANGE co-founder Guy Abrahams.
The new education resource developed by CLIMARTE and the Ian Potter Museum of Art acts as a starting point for teachers and secondary students to explore EXIT. The questions for consideration, suggested extra activities and research have been designed to address the curriculum across Science, the Humanities – Geography, and Visual Arts for levels 7–10. The questions and activities have been compiled in reference to the Victorian Curriculum.
The resource also aims to help embed in the Victorian curriculum the priorities of Sustainability and Indigenous and Torres Strait Islander histories and cultures, as well as incorporating the ethical, intercultural, personal and social, and critical and creative thinking capabilities. In addition, EXIT is bilingual and supports the teaching and learning of the French language.
CLIMARTE is a Melbourne-based organisation that produces, promotes, and facilitates arts events with an alliance of arts practitioners and organisations that advocate for immediate, effective, creative, and inspired action on climate change.
Through its curated exhibitions and events, ART+CLIMATE=CHANGE 2017 provides a platform for the discussion of the challenges, opportunities, impacts, and solutions associated with climate change.
Major Event and Festival Hub: Diller Scofidio + Renfro, EXIT
EXIT holds a dramatic mirror to a contemporary global concern: unprecedented numbers of migrants are leaving their home countries for political, economic, and environmental reasons.Commissioned by the Fondation Cartier pour l'art contemporain, Paris, EXIT was created to quantify, display, and interpret this escalating trend. Based on an idea of acclaimed French philosopher and urbanist, Paul Virilio, EXIT was created by Diller Scofidio + Renfro, a New York-based studio of architects, artists, and researchers, with architect-artist Laura Kurgan, statistician-artist Mark Hansen, and artist-designer Ben Rubin, in collaboration with Robert Gerard Pietrusko, Stewart Smith, and a core team of scientists and geographers.
The work was commissioned by the Fondation Cartier pour l'art contemporain for its 2008 exhibition, Native Land, Stop Eject, curated by Hervé Chandès, General Director; it is now part of the Fondation Cartier collection. EXIT was updated completely in October 2015 on the occasion of COP21, when it was displayed at the Palais de Tokyo, Paris.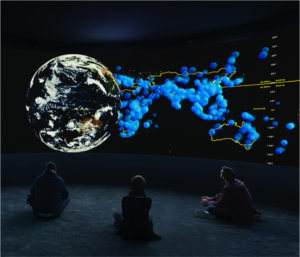 Image:
EXIT
2008-2015
View of the installation EXIT
Collection Fondation Cartier pour
l'art contemporain, Paris
© Diller Scofidio + Renfro, with Mark Hansen, Laura Kurgan, and Ben Rubin. In collaboration with Robert Gerard Pietrusko and Stewart Smith
Photo © Luc Boegly
Diller Scofidio + Renfro: EXIT
Ian Potter Museum of Art, The University of Melbourne, Swanston Street, Parkville
http://www.art-museum.unimelb.edu.au/exhibitions/
http://www.artclimatechange.or/event/exit/