Emily Floyd works for solo exhibition 'Field Libraries', 14 January – 12 March
Town Hall Gallery will feature Emily Floyd's works in one of the Gallery's first exhibitions of 2017, Field Libraries, showing from 14 January to 12 March.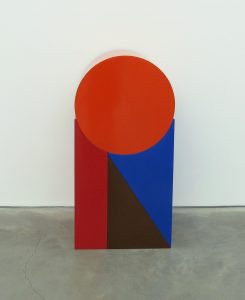 Emily Floyd works in sculpture, installation, printmaking and public art, and is renowned for her text-based sculptures and pedagogically inspired works. Her work draws on her family's history of toy-making and her own upbringing helping in the toy workshop – but Floyd's playful and deceptively simple sculptures are imbued with hours of research and engage with a range of disciplines, from social activism and politics to public education and literature.
Field Libraries features a series of Floyd's works recently acquired by the Town Hall Gallery. The colourful sculptures double as bookshelves, stacked with an ever- expanding 'fair use' library of booklets created by Floyd using excerpts from texts dedicated to eccentric perspectives on the subject of work.
Also on show is a series of screen prints made in collaboration with Negative Press that represent a catalogue of Floyd's ongoing library project.
Showing simultaneously are two more exhibitions, complementary to Field Libraries
and to each other, that explore ideas of play, learning and how we interpret the world. Shape of the Life- World is the first exhibition at the Town Hall Gallery by Hawthorn Arts Centre resident artists Alysia Rees and Samantha Semmens, while Forms of Play is a group show featuring Sarah crowEST, Jenny Zhe Chang and Henry Madin.
For Shape of the Life-World artists Alysia Rees and Samantha Semmens configure elements in the world around us as we try to make sense of our experience of these elements. Through carving up and shaping reality, we are moulded, pared back and pieced together in turn. The making of these sculptural works mirrors this process of making and remaking selves, relationships and environments in everyday life.
Forms of Play examines the way in which formalism is fundamental to notions of playfulness, interaction and learning. Featuring the work of three artists – Sarah crowEST, Jenny Zhe Chang and Henry Madin – who work with different ideas, materials and processes, the exhibition offers an aesthetically cohesive overview of ways in which artists use form to capture and communicate meaning.
There will be two free Walk and Talk curator-led tours of the exhibitions for audiences to gain further insight into the works and the curatorial process. Join the Town Hall Gallery curators prior to the exhibition opening on Saturday 14 January from 1–2pm, or on Wednesday 15 February from 11am–12pm (bookings essential via the Town Hall Gallery website).
Spanning three gallery spaces, the Town Hall Gallery features a diverse range of contemporary public programs, curated exhibitions and exhibitions drawn from the Town Hall Gallery Collection, celebrating the rich cultural heritage of the City of Boroondara. Part of the Public Galleries Association of Victoria, Town Hall Gallery supports local, national and international artists at varying stage of their careers, and offers a space for local artists and community groups to exhibit professional on the Community Project Wall.
Image: FLOYD, Emily, Field Libraries, part R, aluminium, bronze, automotive paint, 90 x 45 x 45cm, © image courtesy of the artist and Anna Schwartz Gallery, Melbourne.
Gallery 1: Shape of the Life-World by Alysia Rees and Samantha Semmens
Gallery 2: Field Libraries by Emily Floyd
Gallery 3: Forms of Play by Sarah crowEST, Jenny Zhe Chang and Henry Madin
14 January – 12 March
Town Hall Gallery
360 Burwood Road, Hawthorn
https://www.boroondara.vic.gov.au/arts