Eight local and international artists create new work for Pattern + at Town Hall Gallery

Town Hall Gallery will present Pattern +, an exhibition highlighting both artworks and design-based works that celebrate pattern, open Saturday 29 October – Sunday 18 December.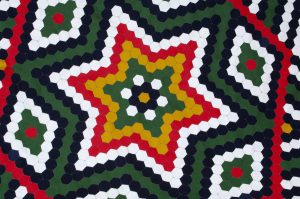 Featuring a wide range of artists and designers, Pattern + will showcase textiles, paintings, photography and installations from Australian and international artists. Running in conjunction with the exhibition is a series of public programs, including a fabric printing workshop with the talented Ramona Barry and Beck Jobson of Handmadelife. Taking place on Saturday 12 November, 10am-3.30pm at Hawthorn Arts Centre, participants will learn how fabric printing is designed and created. Once completed, they will be able to take home their own creations.
Each artist in the exhibition will bring a fantastic insight and diverse response to the brief. School of Art Textile Honours student Daniel Edwards is known for his work interpreting the craft movement of the 1970s. Tim Gresham is no stranger to Town Hall Gallery – his work was exhibited during the touring exhibition Group Exchange, 2nd Tamworth Textile Triennial. Now based in NYC, Kristin McIver examines personal identity and its relationship to social media in her new works.
Melbourne-based David Sequeria explores the notions of language and information through colour and geometry. Proudly a hoarder, David collects books, vases, flower petals, leaves, orange domestic ware and plastic plates, which are all inspiration for his work. Hill End-based artist Mark Booth is known for creating sculptures using PVC pipe elbows to create infinite knots. Local artist Veronica Aldous uses light and pattern in very hypnotic and seductive ways. Works by Alasdair McLuckie are on loan from private collection and gallery Ten Cubed.
Town Hall Gallery has also commissioned Melbourne-based artist Britt Salt (represented by This Is No Fantasy) to create a patterned installation on the entrance window to the Hawthorn Arts Centre, to remain throughout 2017.
Britt said: "Across drawing, sculpture and installation, I employ repetition and materials that have an inherent ability to create movement, such as industrial meshes. These mesmerising transparent structures are suspended in space, offering a multitude of shapes and appearances. When viewed from different angles, manifold patterns and forms emerge, objects can be viewed through other objects and a number of perspectives can be seen."
Whether it is finding symmetry and repetition in nature or investigating computer-generated algorithms, this exhibition will have viewers seeing patterns within their own environment. Pattern + references the history of various iconic patterns as well as artists who are creating their own language within pattern.
Spanning three gallery spaces, the Town Hall Gallery features a diverse range of contemporary public programs, curated exhibitions and exhibitions drawn from the Town Hall Gallery Collection, celebrating the rich cultural heritage of the City of Boroondara. Part of the Public Galleries Association of Victoria, Town Hall Gallery supports local, national and international artists at varying stage of their careers, and offers a space for local artists and community groups to exhibit professional on the Community Project Wall.

Pattern +
29 October – 18 December
Town Hall Gallery
360 Burwood Road, Hawthorn
http://www.hawthornartscentre.com.au/event/pattern/
Fabric Printing Workshop
Saturday 12 November
10am-3pm
Hawthorn Arts Centre
$70 full, $60 concession
Bookings essential
http://www.hawthornartscentre.com.au/event/workshop-fabric-printing/
For all media enquiries, please contact
Deveta Patel at Zilla & Brook Publicity
deveta@www.zillaandbrook.com.au / 03 9690 7000