Chato Serves up Chatos of Top Drops – Small glasses of wine matched with tapas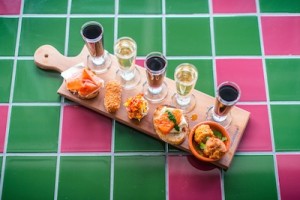 Thornbury's newest café and tapas bar, Chato, is standing by its name and serving up chatos of wine: small glasses of wine designed for tasting.
Common in tapas bars around Spain, chatos are the best way to sample any number of wines. Served on a chatos tabla (pictured), the glasses are paired with a selection of Chato's authentic Spanish tapas, crafted by Madrid-born head chef Maria Echevarria-Lang.
Chatos and tapas pairings include:
Coliflor rebozada, deep-fried cauliflower in a saffron and manchego butter, with the 2014 As Laxas 'Val do Sosego' Albariño (Rias Baixas, Spain)
Sardinas, whole Portugese sardines char-grilled, with the 2012 Carlos Serres 'Viejas Viñas' Tempranillo (Rioja, Spain)
Morcilla con patatas, black pudding with potato cubes and sherry vinegar reduction, with the 2013 Peñascal Estate Tinto Tempranillo (Castilla y Leon, Spain).
The wine list features a number of Spanish varieties from around the country, including the Segura Viudas Cava Brut from the renowned wine-producing region Penedès, and the 2014 Marqués de Cáceres Rosé from Rioja in the north of the Iberian Peninsula. Local Victorian wines are also well represented alongside other top Australian drops from SA and WA.
For those after something a little different, Chato's drinks list has it covered with both traditional and white sangria, Campari and Vermut Negre aperitifs, and a selection of Spanish and Australian beers.
Classic cocktails are available – or opt for a Spanish-influenced Chatotail, including the Agua de Valencia with gin, Cava, Cointreau, calisaya and a dash of orange juice, served in a champagne glass with an orange twist and a cherry.
Chato, open since July, is a family-run venue by Darebin residents Maria and Jenny Echevarria-Lang that places a focus on the community, with small and Melbourne-based businesses supplying much of the kitchen's produce. Chato has already marked its place as a favourite of Thornbury locals and visitors alike.
On-the-up "Thornbury Heights" has just scored a warm dose of Latin love in the form of friendly Spanish newcomer, Chato – a neighbourhood cafe and tapas bar with one eye on Spain and the other on all things local. – Leanne Clancey, Good Food                  
Chato
921 High Street, Thornbury
chato.com.au
(03) 9484 8554
Seven days 8am – 3pm
Thursday – Saturday until 11pm