Sensory Lab's Ben Morrow Wins 2016 London Coffee Masters
Sensory Lab's Ben Morrow has been competing in the second London Coffee Festival from April 7-10 where 20 baristas battled it out in a variety of disciplines, from signature drink creation to cupping challenges, busy café simulations to simple brewing presentations, and finally ending in a live latte art showdown.
Ben was recently Top Six finalist at the World Latte Art Championship in Shanghai, China and was the winner of the New York Coffee Masters in 2015 (pictured).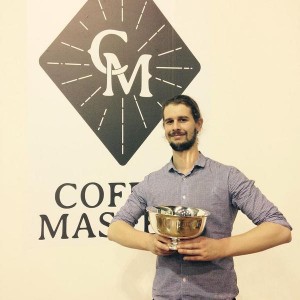 "With seven different disciplines, this is a comp where you need be a really good all-rounder. I wasn't sure how I would go in the first round as some of those disciplines are not my strongest, but I managed to beat everyone in every category," says Ben. "I found the UK comp much harder than the US event, as all the top end European professionals are competing, but I think winning both London and New York is a record that won't be beaten for quite a while."
Coffee Masters is a fast-paced, multi-disciplinary event that is designed to test the world's best baristas' expertise, craftsmanship and dedication. The knockout-style competition saw baristas test their skills in Cupping, Brewing, Latte Art, The Order and The Signature Drink challenges. Those who made it through to the semi-finals took on The Espresso Blend round.
A distinguished panel of judges from around the world evaluated the baristas in each of the challenges before the top two finalists went head-to-head for the Coffee Master title and £5000 cash prize.
Ben made his name around Australia before leaving his mark at the 2015 New York Championships and now the 2016 London Championships. Some of his wins include second place at the 2012, 2013 and 2015 Australian Latte Art Championships, back-to-back latte art winner of Victoria and winner of the Veneziano Legends Smackdown 2015, among many other awards.