Aphids Presents Howl for the Festival of Live Art
For one night only, March 5th, Aphids presents Howl, a celebration of 15 significant moments in art history. A ritual procession starring a sculpture of Captain Cook, thousands of sunflower seeds and a killer whale named Tilikum. A requiem that is unquestionably queer, arguably dangerous and probably obscene. Performed by three women. Scored by Mozart himself.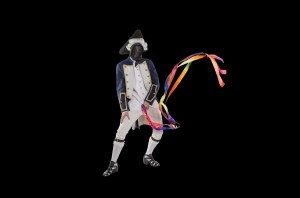 Created by Willoh S. Weiland, Lara Thoms and Liz Dunn, Howl commemorates controversy – from the furore aroused over a feminist self-portrait and the outrage at a rainbow being burnt repeatedly in a public square, to the indignation of artists arrested on suspicion of bio-terrorism. Howl energetically probes the reactions art can invoke, and the perspective that history permits.
"We are interested in challenging our audience to consider the way the social importance of art," says Willoh. "The works share a capacity to incite and incense. Taken from across different points in history from 1880 to the present day, each piece has captured a particular zeitgeist from the horror of feminism, to whether we should be able to take animals lives, to the essential question of can an object be art if it is mass produced."
This is the first project for Willoh S. Weiland since winning the ANTI Festival International Prize for Live Art in 2015, of which the judges noted; "Her projects are deeply serious and deeply humorous in equal measure. They are also spectacular, epic and impossible to ignore."
Liz Dunn works with performance, movement, sound and video through site-engaged processes to consider ecology, nature, queerness and space. Her Aphids project Flyway has toured to Netherlands, Bulgaria and Lithuania and will return to the Substation in April 2016.
Lara Thoms is interested in socially engaged, site-specific and participatory possibilities in contemporary art. Her 2015 Aphids project A Singular Phenomenon was described by the Herald Sun as "a brilliantly screwy night at the theatre."
Ticket information
Venue:            Meat Market
5 Blackwood Street, North Melbourne
Date/time         Saturday 5 March, 8.30pm (60 mins) one night only
For Bookings:  http://fola.com.au/program/howl/
Tickets:            $35 (full), $30 (conc), $25 (student)
Artists biogs:
Willoh S. Weiland http://aphids.net/people/Willoh_S_Weiland
Lz Dunn (NB spelt Lz not Liz) http://aphids.net/people/Lz_Dunn
Lara Thoms http://aphids.net/people/Lara_Thoms