Andrew Murray and special guests bring big sound to Hawthorn with ATM 15 Big Band, Friday 9 June
Melbourne's hippest 15-piece big band is bringing their exciting sound to Hawthorn Arts Centre for one night only. ATM 15, led by music director and composer Andrew Murray will take to the stage on Friday 9 June along with special guest appearances.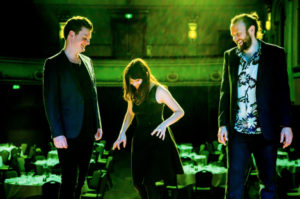 Andrew Murray leads the fresh sounding big band as a part of their soon to be released and long awaited third album. Past albums, Big Band Reborn and Human Music, earned critical acclaim and showcased Murray's talents as both musician and composer. Having won the inaugural National Big Band Competition for composition in 2009, Andrew went on to form ATM 15 as a vehicle for his own compositions and arrangements, featuring some of Melbourne's top improvising musicians.
ATM 15 Big Band will be joined on stage by two of the industry's best jazz vocalists including one of Melbourne's most exciting young actors and vocalists, Georgina Darividis. VCA graduate in jazz and improvisation, Darividis has played major roles for Victorian Opera's Turn of the Screw and Cinderella. This versatile and powerful singer promises to bring her particular artistic sensibility to front the 15-piece band. Joining her is acclaimed British jazz singer, Joshua Kyle. With the release of his debut album Possibilities in 2011 as a part of London International Jazz Festival, Kyle has truly been one to watch. Australian Jazz calls the 2012 National Jazz Awards finalist "polished, informed and a very enjoyable listen."
Combining jazz harmony, orchestration and a contemporary soul sound, ATM 15 promises to be an exciting arrangement of original composition from some of Melbourne's best. A unique musical experience in a cabaret style atmosphere, complete with the opportunity to purchase gourmet cheese platters and selected drinks, Hawthorn Arts Centre plays host to a decadent musical experience. ATM 15 is "individual, refreshing and cliché free" (Ed Partyka, Composition professor at the University of Music in Graz). Andrew's conduction and composition bring together these talented musicians that make this performance one not to be missed.
ATM 15 is coming to Melbourne with a bang for one night only. Experience the revival of the Hawthorn Arts Centre's original grandeur and glory with the big band experience.
"ATM is one of the most exciting large jazz ensembles I have had the pleasure of hearing"
– Daryl McKenzie 
"This group has become recognised as one of Melbourne's most practiced and esteemed large ensembles" – James Mustafa, Australian Jazz
Hawthorn Arts Centre presents an exciting and varied arts program and is home to performance, exhibition, workshop and events spaces. Visitors can enjoy refreshments at the Events Bar or explore Hawthorn and discover the area's culinary delights.
ATM 15 Big Band
Friday 9th June, 8.00pm
$35 Tickets, $30 Concession                                       
Hawthorn Arts Centre
360 Burwood Road, Hawthorn, VIC 3122
hawthornartscentre@boroondara.vic.gov.au