Alt-folk-pop band The Little Stevies debuts new music at Kew Court House
The Little Stevies have charmed audiences internationally and locally for over 13 years with their stunning alt-folk-pop sound. Off the back of the Sydney Opera House Summer Playground set this month, the much-loved duo will play at Kew Court House for an intimate performance using the baby grand piano on Saturday 25 February.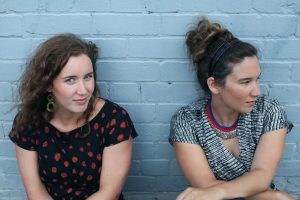 The Little Stevies is made up of Melbourne sisters Beth and Byll Stephens who have received acclaim for their masterful songwriting along with their wondrous live performances. The authenticity of their often hilarious story telling paired with beautiful harmonies has captivated audiences worldwide. Beth and Byll will treat audiences to some new music from their next album to be launched later in the year.
"We are looking forward to showcasing some new music at the stunning Kew Court House. Our music is very much autobiographical; therefore our sound is maturing all the time. This has spurred a shift in moving away from typical bandrooms, instead choosing venues that complement our sound. The baby grand piano will be a gorgeous addition to the performance," said singer songwriter Beth Stephens.
As well as touring the likes of North America, Canada and New Zealand and recording an album in LA, the duo have already had an explosive start to 2017 in Australia. The pair played Woodford Folk Festival over the New Year, the Sydney Opera House Summer Playground in January, with their Kew Court House performance to follow on 25 February.
The sisters have also recently been recognised for their side project, Teeny Tiny Stevies, songs for children that can be enjoyed by adults alike, which was recently featured on The Project. The album, along with its artwork has also been praised by the likes of Zoe Foster-Blake and the band has since performed 'double gigs', with daytime sets as Teeny Tiny Stevies and evening sets as The Little Stevies.
The Kew Court House is a small performing arts venue presenting some of Australia's most exciting artists. A former courthouse and police station, the heritage-listed building presents one-of-a-kind experiences that music lovers won't get anywhere else in Melbourne.
The Little Stevies
8pm, Saturday 25 February
$28 full, $23 concession
http://www.hawthornartscentre.com.au/event/the-little-stevies/
Kew Court House, 188 High St, Kew
For media enquiries, please contact Zilla & Brook Publicity / 03 9690 7000
Deveta Patel deveta@www.zillaandbrook.com.au/ 0416 487 886