Absolutely Famished presents sensory event Foodnotes & Coloursense
Absolutely Famished presents sensory event Foodnotes & Coloursense
17 November 2016, 8–10pm
Colour Sense exhibition 9 November – 9 December 2016
Foodnotes & Coloursense, presented by the Carlton Connect Initiative as part of Melbourne Music Week, is an event that explores the intersection of sight, sound and taste. The event will take place during the Colour Sense exhibition, which features work by visual artist David Sequeira at LAB-14 Gallery. Both the exhibition and the event are the latest components of Carlton Connect Initiative's ongoing future food project Absolutely Famished.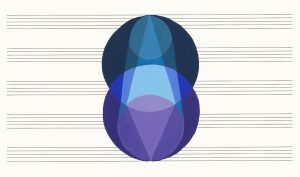 Colour Sense and the associated Melbourne Music Week event, Foodnotes & Coloursense, invite the viewer to consider the untapped power of the senses to alter or enhance our food experiences.
"If future dining experiences evoke all of the senses, how will this change what we eat? Will curated soundtracks or colour stimulation therapies form the basis of new fad diets?" said Dr Renee Beale, curator of Absolutely Famished.
In Colour Sense, David Sequeira works with colour and geometry to explore language, information, and experiences around food and music. He presents two major works, 'My Mother's Cooking' and '50 Songs'. 'My Mother's Cooking' features a rainbow arrangement of cookbooks wrapped in monochromatic coloured paper, while in '50 Songs', references to musical notation heighten the sensation of colour within the work.
Drawing these concepts together, the Foodnotes & Coloursense event will feature a piano recital by popular Melbourne musician and composer Luke Howard. The performance responds to the intensely coloured work featured in Colour Sense, while an array of 'tastes' created relating to the artwork and music are served.
A discussion moderated by 3RRR's Cameron Smith with Carlton Connect curator Dr Renee Beale, visual artist Dr David Sequeira, musician Luke Howard and University of Melbourne neuroscientist Dr Simon Cropper will follow the performance.
"Neuroscience continues to provide new information about perception and our conscious experiences but how much of this research will end up on our plates?" said Dr Beale.
Absolutely Famished is a program of exhibitions and events curated by Dr Renee Beale. The series explores everything from neuroscience research into eating habits to futuristic dining experiences in the 22nd-century marketplace.
Event date: Coloursense & Foodnotes, 17 November, 8–10pm
Tickets: http:mmw.melbourne.vic.gov.au/com_program/foodnotes-coloursense/
Exhibition dates: Colour Sense, 9 November – 9 December 2016
Monday, Tuesday, Thursday, Friday – 9am – 5pm, Wednesday 9am – 6pm
Lab-14 Gallery, 700 Swanston Street, Carlton
www.carltonconnect.com.au/absolutely-famished